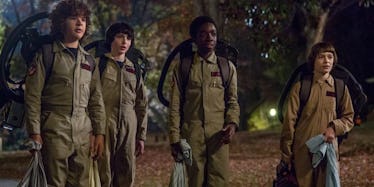 New 'Stranger Things' Season 2 Photos Will Have You Ready For Hawkins
Jackson Lee Davis/Netflix
There's less than a month until Netflix will fulfill our insatiable binging needs and finally give us a second season of Stranger Things to devour. Ever since (spoiler ahead) Will coughed up that disgusting slug thingy in the Season 1 finale, we've been counting down the days until we can return to Hawkins and find out what is up. There are more chilling and mysterious events to come and from the looks of these new Stranger Things Season 2 photos, what lies ahead is going to be good. Like, scary good.
Entertainment Weekly recently released a slew of exclusive pics from the upcoming episodes, and they're offering up a few clues -- and a bunch of head-scratching questions -- about what we can expect. There are our fave Hawkins tweens (Will, Dustin, Lucas, and Mike) dressed as Ghostbusters. There's Joyce (Winona Ryder) looking as distressed as possible, in the arms of Sean Astin's character in one photo, and in another, the two of them are laughing on a park bench. What's so funny, guys? Isn't there evil lurkin'? There's newcomer Billy (Dacre Montgomery) standing in what can only be described as a Canadian tuxedo. And OMG, Eleven. Eleven is rocking her curly hair and a messenger bag, looking all inquisitive. What is happening?!
OK, so the Ghostbusters thing isn't so cryptic... we saw that in the trailer. It's the mid-eighties. That movie was huge and of course, this group of all groups would be down with a comedic sci-fi masterpiece featuring Bill Murray and spooky, yet hilarious, spirits. But what about Sean Astin? This is our first look at the actor in the Netflix series and we don't know much about how he'll factor into the happenings of Hawkins, but we know a little. The Rudy star is playing the manager of the town's Radio Shack and an old buddy of Joyce's. OK, he's her boyfriend.
Much like the expert casting of '80s/'90s "it girl" Winona in the role of Will's mom Joyce, Sean is somewhat of an idol of the decade that made shoulder pads and Flock of Seagulls a thing in his own right. You may remember he starred in The Goonies, an iconic coming-of-age adventure classic that Stranger Things has been compared to. Those casting directors know what's up.
But what about our new pal Billy? Methinks he's going to be a problem... Bad boy alert. And sweet outfit, by the way.
Billy has already been labeled as a "mean guy" by director and producer Shawn Levy. "He has prejudices that are ugly. He treats his younger sister in a mean, controlling, bully-ish, domineering fashion. So he's just bad."
So, he's not a good guy. Got it.
In addition to the set photos, EW spoke to the cast and producers about the upcoming season and the future of the show. That whole thing the Duffer Brothers said about potentially not making more than four seasons? Don't get too attached to the idea. "Hearts were heard breaking in Netflix headquarters when the Brothers made four seasons sound like an official end, and I was suddenly getting phone calls from our actors' agents," Shawn Levy explained. "The truth is we're definitely going four seasons and there's very much the possibility of a fifth. Beyond that, it becomes I think very unlikely."
Yes, we're all for more and more Stranger Things for years to come. I'm willing to stick around and watch these Hawkins kids grow up. But for now all we really want is Season 2 in our lives. New characters, the return of Eleven, and even "crazier" action  are sure to help the series live up to its critically-acclaimed reputation. Oct. 27, we're ready for you.