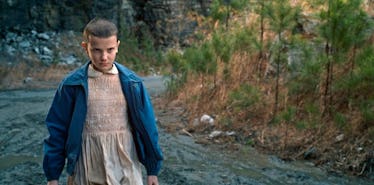 'Stranger Things' Will Get a Third Season, But Don't Expect More Than Four
Netflix
While we're waiting with bated breath for Season 2 of Stranger Things to finally arrive on Netflix this fall, The Duffer Brothers are already giving us clues as to how much more of the spooky series we'll be able to binge-watch in the future. The good news? Stranger Things Season 3 is on. The bad? The sibling team behind one of 2016's buzziest hits told Vulture that fans shouldn't hold out for many more seasons of Upside Down adventures.
The masterminds behind the hit show, Matt and Ross Duffer, seem determined to not jump the shark. Or in their case, the Demogorgon.
"We're thinking it will be a four-season thing and then out," revealed Ross Duffer. His brother explained, "I don't know if we can justify something bad happening to them once a year." Ross added, "They're going to have to get the f*ck out of this town! It's ridiculous!"
Say it ain't so! We were seriously hoping for Eleven: The College Years.
Hey, bad things happening yearly (ahem -- sometimes daily) works in The X-Files, Buffy, 90210, Grey's Anatomy, and practically every other show, but we respect a series about evil supernatural forces going for at least some realism.
The Duffer Bros didn't only discuss the fate of the Stranger Things run; they also talked about how they approached the second season. Ross said, "I told Matt, 'I don't want to call it season two, I just want it to feel like a movie sequel.' If you have a successful movie, No. 2 is always a little bit bigger."
If the second season is as good a sequel as Aliens, Godfather Part II, or Terminator 2: Judgment Day, we'll surely be satisfied. And if the trailer is any indication, the upcoming chapters probably won't disappoint come Oct. 27.
Even though we're bummed to hear that we're only getting a few more years of Hawkins, Indiana, sci-fi goodness, at least we can sleep tight knowing that a third season is in the works. Hopefully, we'll see the gang through a few high school milestones (Dustin at prom, anyone?) and monster-battling moments along the way.