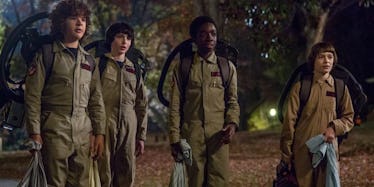 New 'Stranger Things' Season 2 Trailer Will Terrify And Excite You All At Once
Jackson Lee Davis/Netflix
Even with countless announcements about your favorite TV shows and movies coming out every second at San Diego Comic-Con, nothing was more exciting than Netflix's Stranger Things panel — and not just because it included footage from the new season. Yes, there's officially a new, much more revealing Stranger Things Season 2 trailer, but the SDCC crowd was hyped well before it played to a packed hall.
The panel opened with a video of the already iconic Christmas lights as some of the first season's best quotes played. That lead to an epic countdown (starting from 11, obviously) and a recap of some of the first season's best moments. After the cast gave some perfectly ambiguous answers to host Patton Oswalt's questions about Season 2, they introduced some new cast members and then, finally, played a trailer.
And this one is nothing like the teaser we got during the Super Bowl. Watch it for yourself:
OK, where do we even start? Though Season 2 takes place a year after the events of Season 1, as the cast and creators confirmed at the panel, Will is still having flashes to the Upside-Down, where he also sees what appears to be the total destruction of Hawkins. So is that... the future? Why is the demogorgon suddenly 100 feet tall?! Oh, and who's watching Will at the doctor, getting some kind of brain scan? Can any doctors be trusted, including the new one played by Paul Reiser?
Obviously, the trailer leaves you with a lot of questions, but it does answer one very important thing: Eleven is back.
Sure, we saw her open her eyes at the very end of that first teaser, but this trailer provides a much better look at her current status.
She's still in the Upside-Down version of the high school where they vanquished the demogorgon (or so we thought), wearing the same battered dress and plaid jacket we last saw her in. It seems like she's been trapped for the last year, but considering that the trailer ends with her getting her arm through to the real world, that might be changing.
We still have a few more months to wait before Stranger Things returns on Oct. 27, so let's hope that this first real trailer isn't the last.