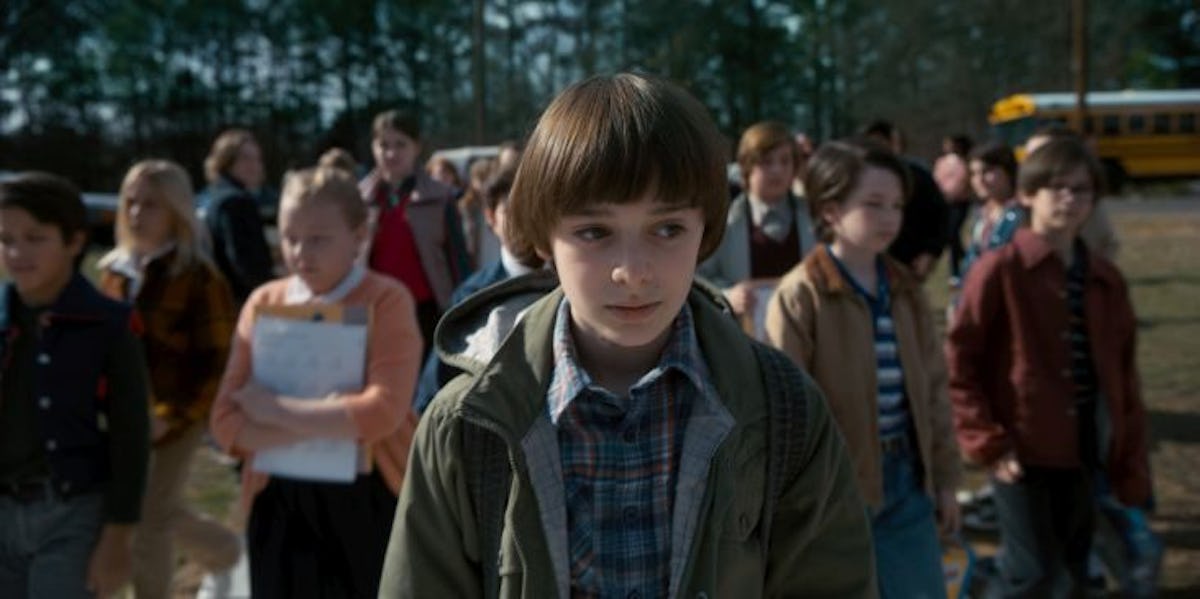 'Stranger Things' Season 2 Will Be Like Season 1 On "Redbull," According To Actors
Netflix
Netflix may have been beaten to the Best Original Drama Emmy by Hulu, but that doesn't mean it's not celebrating the return of Stranger Things, which was one of the show last year to score multiple nominations. Season 2 starts at the end of October, and the actors are officially out in full force starting this week hyping the next installment. and to a man (and child) they say that Stranger Things Season 2 compared to Season 1 is like "red bull instead of coke."
Part of the reason for the more extreme for of energy for this season? How much bigger it's getting. Last season saw the show stay mainly in Hawkins, Indiana, with only a single trip to Lonnie's, and several into the Upside Down as escape from the small 80s suburban enclave. This season there will be more locations -- including the show opening somewhere that's *not* Hawkins.
According to Matt Duffer:
I liked opening the show in a place not in Hawkins, in an urban environment. I want people thinking maybe they've clicked on the show and then, boom, you realize 'Oh no we're still in it.' But it's all about broadening, and expanding our world.
Where are they opening? That part they won't say, of course.
The Duffers never expected their shop to be a monster hit of this magnitude, though by virtue of being on Netflix, which is quick to renew series, they were already planning a "sequel" as they like to call it. (Netflix is less keen on the term.)
The good news is that a lot of what we wanted to see or what we responded to, that seems to be what the audience responded to. Like we fell in love with Gaten, and there were aspects, like Barb, we were already planning to deal with. It felt like there was a nice alignment between what we wanted to see and what other people wanted to see.
In the spirit of the show getting bigger, not only will they leave Hawkins for more citified climates, but there will be more than one A-plot to follow. Last year, there was one mystery -- "What happened to Will Byers?" This year there are several, including "Who Is MadMax?" and "Where Is Eleven?" and ""Is Will Having PTSD Or Something Worse?" But like all roads lead to the Upside Down last year, this year, all roads will again lead to one place: the "Shadow Monster."
According to Ross:
We have all these different threads and you don't see how possibly all these things could come together and then slowly but surely they all play an integral role in the story this season.... It's all connected to this singular threat, which is tied into this shape that Will sees in the sky.
Adds Matt:
Each episode is building on the last one. It gets much crazier than it ever got in season 1.
The show is also bring aboard a few more 80s era actors, like star of The Goonies (and later Lord of the Rings) Sean Astin. He's playing Bob, the manager of the local RadioShack, and by some reports, this season's "Barb" character who is marked for death immediately.
There's also a love interest for Winona Ryder's character Joyce, though no one will say who yet. Other newcomers include Paul Reiser (Dr. Owens, in charge of the Upside Down maintaining lab), as well as Linnea Berthelsen who plays "a disturbed young woman" with suggestions she too might have been to the Upside Down.
Rounding out the new cast: Sadie Sink, who plays a tomboy named "Max", who fans are guessing will turn out to be Dustin's "Madmax" nemesis who keeps beating his high score on Dig Dug, and Dacre Montgomery, who plays Max's older brother, Billy.
Stranger Things Season 2 will consist of nine episodes, all of which will be available to stream starting the Friday in October, Oct. 27, 2017.