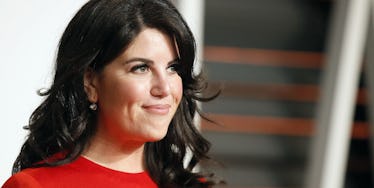 Monica Lewinsky Just Broke The Internet With Her Tweet About 'Lemonade'
REUTERS/Danny Moloshok
Over the weekend, Beyoncé blessed us with her visual album Lemonade on HBO, followed by the release of the new album on TIDAL. 
In the one hour project, Bey used spoken words, lyrics and empowering visuals to speak about betrayal from a lover and infidelity within relationships.
The entire Internet broke down as Beyoncé went in depth about a lover who hurt her. In one song, "Sorry," she even references "Becky with the good hair,"who many believe is fashion designer Rachel Roy.
After all of the drama with Roy (not Rachael Ray, fools), Monica Lewinsky, aka the real Becky, is sharing her two cents on Lemonade. Lewinsky, who is infamous for her affair with Bill Clinton, decided to chime in on Twitter about Bey's new project.
hey, will someone let me know if it's safe for me to listen to #LEMONADE? #sarcasmfilter — Monica Lewinsky (@MonicaLewinsky) April 25, 2016
Oh, um... I appreciate you voicing your concern, Monica, but I think you should def listen to Lemonade since it's already the greatest album of all time.
What a jokester you are. I think the only person who should probably be concerned at this point is Jay Z. Someone should check on him.
Citations: Monica Lewinsky "Lemonade" Tweets (Complex)