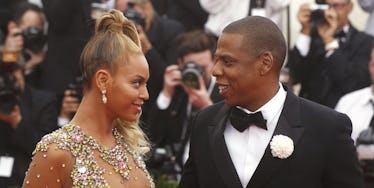 Twitter Is Concerned About Jay Z After Watching Beyoncé's 'Lemonade'
REUTERS/Lucas Jackson
WOAH, some serious sh*t may be going on between Beyoncé and Jay Z. Well, at least that's what Twitter thinks.
Saturday night, Beyoncé premiered her new project, "Lemonade," on HBO. In the one hour special, Bey shared some lyrics that had a lot of people concerned about her relationship with Jay Z.
Several fans on Twitter believe Bey's "Lemonade" is a break up anthem for the singer.  Will Bey really be divorcing the rapper after the special? Is Twitter right on this one?!
Check out the Tweets below and decide for yourself.