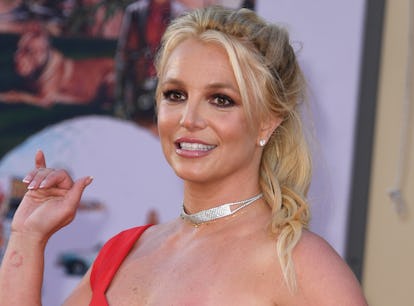 Britney Seemingly Responded To Millie Bobby Brown Wanting To Play Her
Wait, they do sort of look alike.
VALERIE MACON/AFP/Getty Images
It seems Britney Spears isn't on board with a film about her life. Well, at least not now. One day after Millie Bobby Brown shared her interest in playing the singer in a biopic, Spears appeared to shut down the idea on Instagram.
"I hear about people wanting to do movies about my life … dude I'm not dead !!!" the "Gimme More" star wrote on the Nov. 8 post. The rest of Spears' post, which features a shot of a door, details the latest on her ongoing fallout with her parents, as well as how "embarrassed" she was for posting so much content in the last few weeks.
Still, Spears' current disinterest in an autobiographical film stood out. Notably, Spears didn't mention Brown by name, so it's unclear if she was responding to the Stranger Things star's recent comment.
In a Nov. 7 interview on The Drew Barrymore Show, Brown mentioned that playing Spears was on her professional bucket list. She said she connects with the singer's tumultuous experience of growing up in the spotlight. "I think her story, first of all, resonates with me. Just growing up in the public eye watching her videos, watching interviews of how when she was younger," Brown said.
In the video, Brown then gestured to Barrymore, who also rose to fame as a child. "Same thing with you, I see the scramble for words [in the interviews]. I don't know [Spears], but when I look at pictures of her I feel like I could tell her story in the right way and hers only," she said. It also doesn't hurt that Brown and a young Spears share a similar resemblance with their caramel-colored waves and vibrant smiles.
Brown's desire to play as the singer makes sense. In 2013, Brown made her acting debut at just 9 years old with a guest star role on ABC's Once Upon a Time in Wonderland. Then, at 12 years old, she catapulted to fame with her role as Eleven in Netflix's hit series Stranger Things.
Spears isn't the only singer Brown has shown an interest in playing. In June of this year, the Enola Holmes 2 actor revealed she would be "sooooo down" to star as Halsey in a biopic after the "So Good" singer acknowledged a resemblance.
So far, Brown has not publicly addressed Spears' seeming comment... about her comment. Though the idea of Brown recreating one of Spears' many iconic albums sounds promising, there doesn't appear to be any movement on this idea.