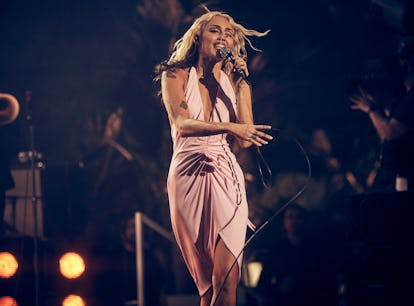 Miley Cyrus' "See You Again" Never Got A Music Video For This Wild Reason
NBC/NBCUniversal/Getty Images
Miley Cyrus' discography is filled with memorable, cheeky one-liners. However, her most unintentionally iconic lyric has to be "She's just being Miley" from 2007's "See You Again." And no, that isn't a dramatic hot take. It's been over a decade since that track was released, and it still sits in a class of her most underrated singles. "See You Again" didn't receive the same push as her earlier 'breakaway from Hannah Montana' hits (think "Start All Over" and "7 Things"), and Cyrus recently revealed the reason why.
In episode 14 of her Used To Be Young TikTok series, Cyrus shared that her then label — Disney's Hollywood Records — didn't see the potential in "See You Again." "My record label at the time didn't think the song was a hit, so there was never a music video made for it," she said in the Aug. 30 video. Oh, we were robbed.
Cyrus said she wrote the track, an opener on 2007's Meet Miley Cyrus, as an escape from her Hannah Montana persona. That energy also carried over to her two following albums, especially in the campy music video for "Can't Be Tamed." "I wrote that song in a way that would feel really personal to Miley so there would be no confusion between me and the character. But yes, my record label told me that the song wasn't gonna be a hit. And my fans decided otherwise," she said.
In May 2008, over a year after the song's release, it scored the 10th spot in Billboard's Hot 100 list. This accolade not only proved "See You Again" was a riff-heavy bop, but that Cyrus had impressive potential as a solo star. People were clearly interested in following her career beyond Disney (sorry, Hannah Montana), so the reality that "See You Again" was stripped of having its main character moment surprised fans.
In the comments section of her TikTok, one user wrote: "WE KNOW A HIT WHEN WE HEAR ONE." Meanwhile, another fan questioned Hollywood Records' taste and said he "still listens to it to this day." Talk about taste. Even Cyrus saw the iconic potential in "See You Again." In the TikTok video, the singer happily chants "work, work, work" as she watched a video of herself performing the song.
With Cyrus reflecting on her Disney days, maybe she'll give "See You Again" the music video it deserves.