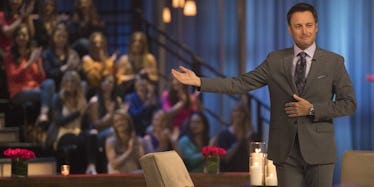 Mike Fleiss Keeps Dropping Major Clues About The Next 'Bachelor' And We Need Answers
ABC/Matt Brown
Bachelor creator Mike Fleiss is known for tweeting insider info about the franchise, and his latest batch of intel is keeping us guessing at every turn. The producer has been dropping tons of clues about the next Bachelor as of late, and practically every time he closes a door to one theory, a new window to another one opens. We can't blame the guy for pumping Bachelor Nation with juicy spoilers and hints, but we're ready for some real answers.
Fleiss' Twitter remarks have been the subject of discussion ever since he not-so-subtly ruled out the concept of Peter Kraus, Rachel Lindsay's season runner-up, becoming the show's upcoming leading man, writing, "Do we really want a Bachelor who isn't ready to settle down with a woman he loves? Hmmm. Not what #thebachelor is all about..." Alas, our #TeamPeter dreams were dashed. But since that fateful tweet on Aug. 17, oh, how things have ebbed, flowed, and evolved for Bachelor Nation's hopes.
On Saturday, Fleiss shocked fans with a cryptic message that seemed to insinuate that Nick Viall, who recently split with fiancée, Vanessa Grimaldi, would be the next Bachelor. Nick quickly shot those down, and Fleiss did too... sort of. What are you doing to us, Mike?
This isn't the Da Vinci code — this is reality TV. We should not need a cryptographer to come in and decipher tweets about Nick Viall, yet, here we are. Since those tweets, Mike Fleiss has been on even more of a rampage, offering up Bachelor "power rankings" to confuse us even more.
But do those rankings mean anything? There's Peter's name again.
Fleiss' latest major tip-off revealed that the contender is not a suitor from JoJo's season. So, Wells would be out. Dreams dashed yet again.
But Mike Fleiss isn't the only person causing social media hoopla. Reality Steve tweeted on Aug. 30 that he felt "confident in reporting" that Peter would indeed be the next dude to hand out roses, yet we're still without an announcement and Mike Fleiss is still taking us on a rollercoaster ride of emotions.
While many signs point to Peter at this stage in the game, we're still chomping at the bit for formal confirmation. And you better believe that we'll be watching the loose-lipped Mr. Fleiss' social media like a hawk.