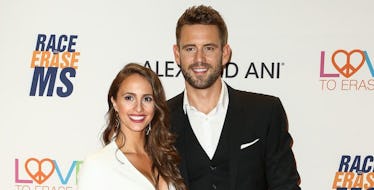 Nick Viall & Vanessa Grimaldi Have Reportedly Broken Up & Honestly, Who Is Surprised?
REX/Shutterstock
WOW, GUYS, WHAT A FREAKING DAY FOR BACHELOR NATION. Former Bachelor Nick Viall and Vanessa Grimaldi have reportedly broken up, according to E! News. This news comes not all that long after the couple announced their engagement in the first place. But why, though? What could have possibly driven these two totally, definitely, 100 percent, head-over-heels in love couple apart? Well, there isn't a crystal clear answer just yet, but it wasn't an easy decision apparently.
"It's with a great amount of heartbreak for the both us as we have decided to end our engagement," Nick and Vanessa told E! News in a statement.
The two continued,
We gave this relationship our all and we are saddened that we did not get the fairytale ending we hoped for. We will continue to be there for each other no matter what. This hasn't been an easy decision, however, as we part ways, we do so with lots of love and admiration for each other.
Following Nick's proposal to Vanessa on the finale of The Bachelor last season, people have been pretty skeptical of just how in love the couple really were with each other. However, the two were seemingly enjoying spending a ton of time together in Los Angeles for the past several months, according to E!.
"We're just not really spending a lot of time apart," Nick told E! at the Los Angeles Dodgers Foundation's Blue Diamond Gala. "She's spending a lot of time out here in L.A. and we'll keep doing that."
You guys, despite the big smiles and sweet words, I've gotta say I have never been less surprised about anything in my life. Seriously. I mean, we all watched Nick and Vanessa's initial interviews, right? We saw that? We all saw these faces?
OK, cool. Just checking.
I mean, you fall in love on a reality show. You get engaged in literally a few months. You have cameras following you everywhere. You're from different places. And you look like THAT after your engagement? Yeah, no, nope, no idea a breakup was coming.
IDK, I'm no expert on all things love and romance, and I get that having 87 cameras in your face changes things — I GET IT, YOU GUYS. All I'm saying is, I feel like the initial fireworks just would've been more... existent? If you don't believe me, though, maybe you'll believe Twitter, who is clearly just as a surprised as I am. (Have I mentioned I'm not surprised?)
Who knows what's going to happen next, you guys. WILL RAVEN LITERALLY SWOOP IN HERE? (JK, please don't do that, Raven. You deserve better.) Anyway, let's all just hope Bachelor nation's latest couple Rachel Lindsay and Bryan Abasolo have better luck.