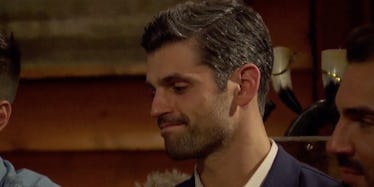 This Tweet May Have Just Confirmed Peter Isn't The Next 'Bachelor,' And I'm Crying
ABC
No. Please no. I can't deal with this right now. Bachelor Nation, I'm so sorry. So many of us have been pulling for (beautiful, godlike, muscular, tattooed) Peter Kraus to grace our TV screens once more, but it seems like our dreams aren't going to come true. Dammit. According to a tweet from Bachelor creator Mike Fleiss, Peter may not be our 2018 Bachelor.
For those living under a rock (sorry, I'm bitter), Peter came in as runner up for Rachel Lindsay's heart this past season of The Bachelorette. She's now livin' the life with her fiancé, Bryan Abasolo, the Spanish-speaking chiropractor from Miami. And if you wanted to know – no, I'm not over it.
Peter's storyline on The Bachelorette basically consisted of him admitting that while he loved Rachel, he just wasn't ready for marriage. Rachel, however, was ready to get married. She knew she wanted to end her time on the show engaged.
There was a theory that Peter was faking this "afraid to commit" thing for the show so that he himself could become the next Bachelor, and while I kind of think that's insane, I was kind of all for it. Any amount of Peter I can get on my TV screen is not enough. But, this storyline doesn't seem to have worked for him in the long run. Fleiss tweeted:
Ugh. I get it, Mike. I do. But can we make an exception, just this once? Fans on Twitter also weren't happy about the news.
Preach! Can we just make a change to how The Bachelor runs? At the end, you just date the person, you don't put a ring on their finger. That's it. In my opinion, it's so much more realistic... and Peter is the perfect guy for the job.
Anyway, I'm hoping Fleiss is just trying to throw us off his path and in the end, Peter will still be the one handing out those roses next season. If not, Peter... call me.