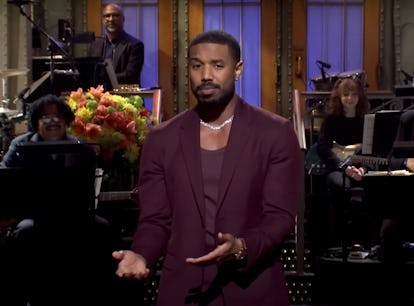 Michael B. Jordan Joked About His Breakup With Lori Harvey On SNL
He said the internet got his reaction to the breakup totally wrong.
NBC
Michael B. Jordan is on the rebound, and he used his Saturday Night Live debut to sort through his feeling about his "first public breakup." Seven months after Jordan split from his ex Lori Harvey, the actor took to the SNL stage to talk about how he reacted to all the attention surrounding the end of his last relationship, specifically calling out a meme that he says was taken out of context. Clearly, Jordan is in a better place now, because his SNL monologue was full of jokes about his breakup with Harvey.
At the top of Jan. 28's SNL episode, Jordan joked about the very particular issue he had after he and Harvey broke up. "I just directed my very first movie, Creed III, but right after that, I went through my very first public breakup," Jordan shared. "Now, most people after a breakup would be like, 'I'm going to get in better shape.' But I was already in Creed shape, so I had to be like, 'All right, I guess I'll learn a new language.'" He punctuated the joke by saying, "I'm on Raya," in Spanish.
Jordan and Harvey began dating toward the end of 2020, but rumors began to swirl that they had split in June 2022 after fans noticed Harvey deleted all photos of Jordan from her Instagram. Soon afterward, the breakup was confirmed, with reports claiming that the two were simply on different timelines in terms of their relationship.
When word of the breakup hit the internet, a video of Jordan looking sad at a basketball game went viral. Jordan used his SNL monologue to clear up what was going on in that moment, claiming the internet got his emotions all wrong. "After the breakup, everyone thought I was so heartbroken because when the news came out, I was at a basketball game, and they caught me looking like this," Jordan said, as the meme popped up on screen. "Look, I was just chilling, but the internet decided that was me being sad."
You can watch Jordan's full monologue below.
Just a couple weeks before Jordan's SNL episode, Harvey confirmed her new relationship with actor Damson Idris in a series of cute Instagram exchanges. There were also reports that Jordan had begun dating model Amber Jepson, but those rumors turned out to be false, which Jordan seemed to lean into in his monologue by mentioning he's on Raya and flirting it up with most of SNL's female cast.
So, although Jordan is still single after his breakup with Harvey, he doesn't seem all too upset about it. As SNL showed, he's reached a place where he's comfortable joking about the breakup, and can laugh at the memes.