Count your days, concert bots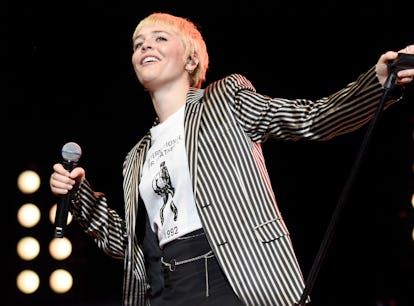 Maggie Rogers Sold Tix To Her Next Tour In Person To Combat Fees & Bots
"Come buy a ticket like it's 1965."
Tim Mosenfelder/Getty Images Entertainment/Getty Images
These days, buying concert tickets feels like a scene in the Hunger Games — especially on Ticketmaster. On presale day, the site normally turns into a battle field where thousands of fans are competing for the hottest seats. There's always a looming dread in the virtual air, largely because fans know they'll have to deal with multiple obstacles. The site might crash, tickets can sell out quickly after bots mass-purchase them, and if you're lucky enough to score a ticket, you have to deal with those infamous fees. Yeah, it's all a mess, and fans of artists like Taylor Swift and Beyoncé can attest to it. However, Maggie Rogers used an old-school method to eliminate some of that stress for her upcoming tour.
On April 7, Rogers sold pre-sale tickets for her Summer of '23 tour in person. Specifically, she held the one-day special at New York's Music Hall of Williamsburg, where she sold tickets for her July 27 show in the same state. She first announced the in-person sale on Instagram, where she echoed fans' general frustration with "fees" and "bots" as the reason she wanted to use this old, but good method.
Captioned as "F*ck bots + f*ck fees. come buy a ticket in person. tomorrow only," the indie-pop singer described this moment as "buying a ticket like it's 1965." "Over the last few months, there's been a lot of conversation about how intense ticketing fees are and how insane bot activity is, and how tough it is to just get tickets into the hands of fans," she began the video.
According to Rogers, fans can participate in the in-person sale by going to the local box office in their city to purchase a ticket. There's only a two ticket per person limit; however, fans can choose from any ticket tier Rogers is offering. This way, the singer said this can "get rid of some of the fees and get tickets directly into your hands," and it honestly did.
On Rogers' Instagram Stories, the "Light On" singer documented her meeting with fans at the in-person sale. She even stopped to take a couple pictures with fans, who created a long line that seemingly wrapped around the Music Hall of Williamsburg venue. After the April 7 sale, which Rogers dubbed as "Box Office Day," an Artist Online Presale will take place on April 11 at 10 a.m. local time. Then, on April 12, a Spotify Presale will be available. A general public sale will then commence on April 14.
Roger's Summer of '23 tour kicks off in late July in North Carolina and will trek through cities like Toronto, Seattle, and Los Angeles until mid-August. Indie bands Scary Mommy and Alvvays will also hit the road with her as supporting acts.
Rogers confronting this era of ticket-buying issues will likely be refreshing to fans, who often feel as though they're drowning in a fight-to-the-death match to purchase tickets. While some people have stuck to voicing their frustration online after they've faced issues scoring tickets, others have taken matters into their own hands and put businesses such as Ticketmaster in a legal hot seat. So far, the ticket giant has reportedly tacked up lawsuits with Swifties over Taylor Swift's Eras Tour, and Drake's latest It's All A Blur concert series.