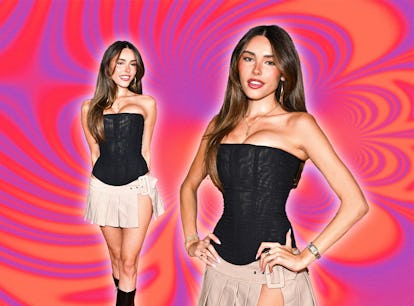 Madison Beer Might Release A Deluxe Version Of Silence Between Songs
Plus, why boundaries are a "form of self-love."
Elite Daily
Madison Beer has come a long way from being discovered by Justin Bieber on YouTube at age 13. The now 24-year-old star has two studio albums and a number of popular singles under her belt, as well as a recently-released memoir, The Half Of It. Fans flock to Beer's TikTok for her raw lyrics as well as mental health advocacy — and she's embracing how far she's come. "It's nice not being asked what Justin Bieber smells like anymore," the "Spinnin" singer says, laughing, while sitting down with Elite Daily at the JBL Authentics speaker launch party in Las Vegas ahead of the Life Is Beautiful Festival.
Beer — who's fresh off the release of her sophomore album, Silence Between Songs — is turning her attention to what's next. The "Home To Another One" singer, who says watching other artists on stage feels like a "school day" for her (she's dying to see Flume), is ready to head back on the road following the drop of what she calls her most "fulfilling" album yet. Below, Beer dishes on her favorite tracks off Silence Between Songs, her process for workshopping a hit, and why she thinks setting personal boundaries is more important now than ever.
Elite Daily: How was the process of writing and workshopping songs for Silence Between Songs different from your earlier releases?
Madison Beer: I learned so much with my last album and touring, as well as the response to stuff I put out. When I was creating the tour setlist, I was like, "What songs am I mad that I have to perform versus what songs am I more excited to perform?" That definitely played a lot into it. But on tour, there were moments where I was like, "Wow, people really respond well to 'BOYSHIT,' for example, which I didn't expect. And I have so much fun singing Reckless." There were just little moments that I really kept in mind when I was creating this album that helped me shape it.
ED: Silence Between Songs has a more classic sound instead of a pop vibe. Are you hoping to do more of that in the future?
MB: While I say that, it's also important to note that I actually do want more upbeat songs to come out, and I might even consider releasing a deluxe version of the album or an EP that's a little bit more of the pop sort of stuff, because that is another side of me that I do love as much as I love the classic-sounding stuff as well.
ED: Do you have a favorite song on the album?
MB: Everyone asks me that and it's not possible to pick. I think that right now, "Envy The Leaves" is my personal favorite, but "Ryder" is the most special song on the album to me.
ED: Why is it the most special?
MB: It's just about my brother and it's very personal. It's probably the most honest out of all the songs, and just so meaningful to me and him.
ED: That's sweet. You mentioned touring — what's it like being a musician going to shows like JBL Fest and seeing other people perform live?
MB: It's like a school day. It's very cool to watch and learn from people. I've seen a bunch of concerts in the last year that I've been like, "Cool, I actually want to integrate some of that in my own show," or I see how they interact with the crowd. It's just those little things that I think you can learn so much from your peers. There's so much inspiration around.
ED: Who are you listening to right now?
MB: This week, it's been all Melanie Martinez. I'm always talking about her and I never shut up about her, but specifically this week, she's all I've been playing. I have a playlist called "Mel" that includes all three of her albums, and it's quite literally all I listen to. "Leeches" would be my number-one song.
ED: Silence Between Songs might be one of your most raw albums to date. How do you balance what you put out in your songs, while also keeping in mind potential speculation, like about "King of Everything"?
MB: Boundaries. I think setting boundaries is such a form of self-love, and I am not afraid to say no to people. I'm not afraid to be like, "Actually no, I'm not going to be pressured to talk about this or feel like I have to." Just because I wrote "King of Everything" doesn't mean that I now have to be like, this song is "Blah, blah, blah about this." I wrote the song, do with it what you will — that's it.
I think that's just been a huge thing for me, being able to say no and put my foot down when I feel it's necessary, because I didn't for a long time. Especially being a woman, you get conditioned that you need to talk about something, and it's like actually, "F*ck off. And no, I don't." So my thing now is not doing anything I don't feel ready to do.
ED: You mentioned a potential deluxe version of your album, but is there anything else in the pipeline that you're looking forward to?
MB: The tour. More music, for sure, but next on my horizon is the tour. I'm very excited for it.
This interview has been edited and condensed for clarity.