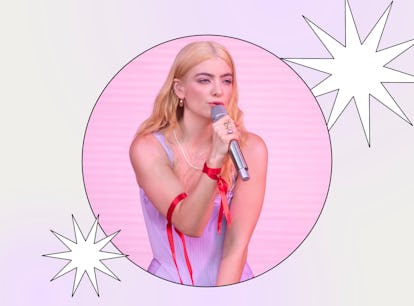 Lorde Surprised Fans With 2 New Songs, Ushering In Her Next Era
Things just got so much more melodramatic.
Joseph Okpako/WireImage/Getty Images
It looks like the sun is setting on Lorde's Solar Power era, and she's ready to return to the night. The hitmaker has been teasing her fourth album throughout this year, and she finally gave fans a first taste of what to expect during a recent concert. Lorde surprised everyone by debuting two new songs, temporarily called "Silver Moon" and "Invisible Ink," and their clubby sound and daring lyrics seem to tease the new era could call back to her darker Melodrama days.
Lorde performed these two new songs on Aug. 11, during her headlining concert at Boardmasters Festival in Cornwall, England. A set list for the event suggested the new songs were titled "Silver Moon" and "Invisible Ink," but Lorde later confirmed those are not the finalized titles.
Whatever their names, the songs are the first indication of what Lorde's fourth album will sound like. Back in February, Lorde confirmed she was working on her next album, and these seem to be the first releases that could likely end up on the track list. Both songs feature pounding, clubbier beats, a notable departure from the mellow, beachy instrumentation on Lorde's most recent album, Solar Power. They're edgier lyrically as well, as Lorde sings about hooking up, ecstasy, and relationship drama. Thematically, the songs seem to indicate a return to the nighttime after Solar Power's embrace of the daylight. Imagery of the moon, demons, ghosts, and bedrooms reign supreme, harkening back to Lorde's dark and moody 2017 album, Melodrama.
You can listen to the tentatively titled "Silver Moon" below:
The intro lyrics land with a bang, as Lorde reminisces on her early days with a lover:
Allow me to set the scene / When I met you, I'd never done ecstasy / Just a girl with a dream / Remember? Back then I still had wisdom teeth / In my head, just a girl in the night.
The rest of the lyrics, which you can read in full on Genius, tell the story of a roller-coaster romance, in which Lorde longs for her partner to change like the silver moon.
After that, Lorde performed her second new song, which is being referred to as "Invisble Ink" until a final title is decided:
The lyrics, as transcribed by Genius, are about the protagonist giving into temptation and choosing "pleasure over patience."
Behind his back I use invisible ink / Color outside the lines with you / Wide awake, I'm afraid in my body / Headless behavior, I want you to stop me / All of the sick twisted things I should swallow
There's no indication yet of when Lorde will officially release these songs, but it sounds like her upcoming era is going to move in a completely different direction from her last one.