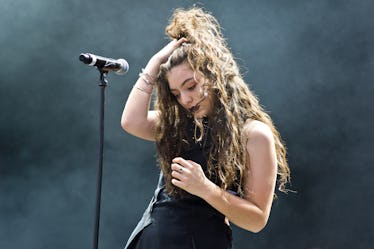 8 Lorde Songs To Listen To After A Breakup For All The Melodrama
She may never be royal, but Lorde is the queen of breakup jams.
Timothy Hiatt/WireImage/Getty Images
Struggling to find the right song to listen to after a breakup? Well, don't worry, because Lorde has got you covered. Lorde's best songs to listen to after a breakup will make you forget all about that person who broke your heart, because no one knows heartbreak quite like her. In fact, the pop star's 2017 album Melodrama was inspired by her first brush with heartache.
Back in 2016, Lorde split with her boyfriend of nearly three years, photographer James Lowe, and she channeled that pain into her second album. "After your heart is broken, music enters you on a new level," Lorde told the New York Times during an April 2017 interview. "You suddenly find yourself crying when 'Try Sleeping With a Broken Heart' [by Alicia Keys] comes on." V relatable. However, she was also sure to emphasize that Melodrama isn't a "breakup album." Instead, she said, "It's a record about being alone. The good parts and the bad parts."
While fans are still waiting eagerly for Lorde to drop her third studio album, her best songs about breakups are here to remind you of all the good parts and the bad parts that come with the end of a relationship.
With Lorde's help, you'll be over your ex in no time.