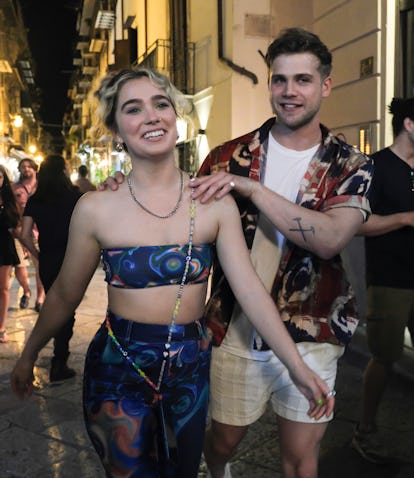 Tiësto's Club-Banger Remix Of The White Lotus Theme Song Is Already Iconic
This is Cameron's most-played song, without a doubt.
HBO
Most of the time, you probably wouldn't think twice before clicking the "Skip Intro" button when it pops up on a streaming service, but there's one theme song that's captured fans' heart so much that they don't dare touch that button. The White Lotus didn't just keep diehard fans coming back every week by presenting them deliciously layered characters and a theory-filled murder mystery — the mesmerizing theme music grew into a pop culture phenomenon of its own. And now, it's the perfect soundtrack for your next rager, because DJ Tiësto has released the official remix to the track, complete with a fist-bumping beat, hyper-danceable synths, and a bass drop that's guaranteed to turn the party.
The new song, released Feb. 17 in association with HBO, reimagines composer Cristobal Tapia De Veer's rich, chant-y "Renaissance" as an electronic dance-floor bop. Tapia de Veer also orchestrated The White Lotus Season 1's theme, "Aloha!," which shares a similar structure to "Renaissance," except with a more Hawaiian flair to fit the season's theme.
Tiësto shared in a statement provided by HBO that he was inspired to officially release this remix after partygoers at his live sets went wild whenever he played his take on the theme: "As a huge fan of The White Lotus I couldn't be more excited to be releasing the official remix. I was instantly hooked on the theme song so I had to put my spin on it for my live sets… every time I play it, the crowd goes crazy! I'm thrilled HBO wanted to partner and make it official."
The official remix release comes after party-ready versions of the White Lotus theme song have started to become a bigger part of major music festivals and concerts. Fans have posted tons of clips of the theme playing over crowds of dancing concertgoers at various events, including Meredith Music Festival and a The Killers concert.
The theme song has also found a second life online, inspiring memes and dance challenges on TikTok for fans who just can't get enough of the idiosyncratic tune. Well, now White Lotus stans have a new version of the beloved song to dance to, and it's already a must-have for every single party playlist in 2023.