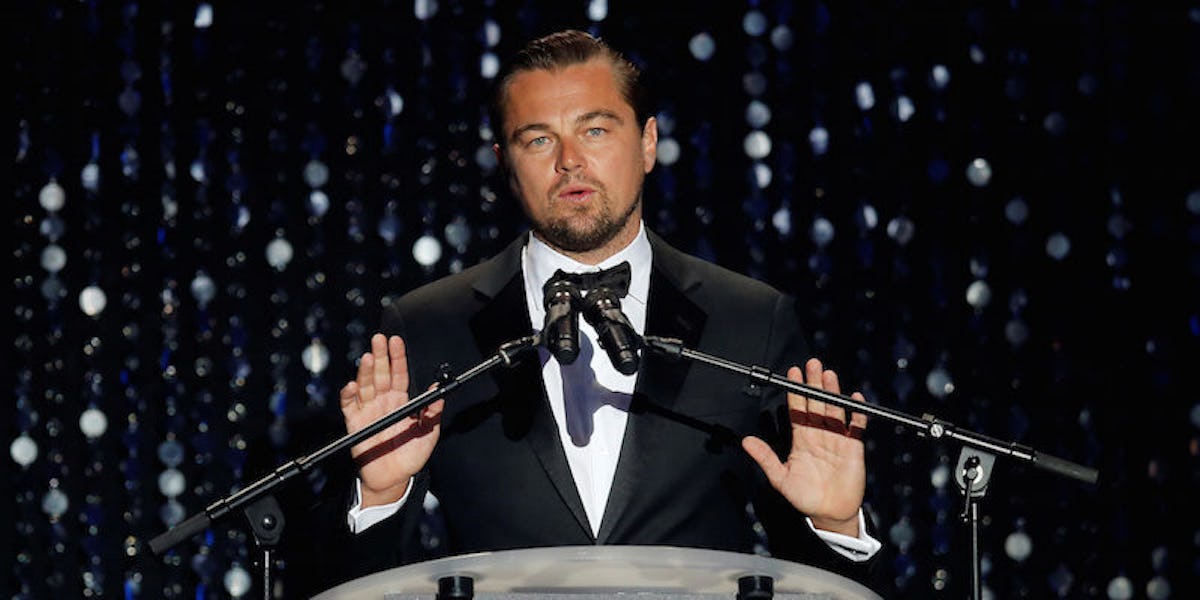 Wait...Did Leo DiCaprio Fly A Private Jet To Accept An Environmental Award?
REUTERS
Leonardo DiCaprio -- actor, Oscar winner, vape enthusiast -- was given an environmental action award at the Riverkeeper Fishermen's Ball, a clean-water advocacy group.
Unfortunately, Leo took a private jet 8,000 miles in a single day to go accept it.
Yup, Leonardo DiCaprio was at the Cannes Film Festival in France on Wednesday and flew to New York City and back on the jet to pick up his award.
That's a little like burning down an ancient church on your way to pick up an award for protecting city landmarks because the church was in the way of the most direct route to the ceremony. (OK, yes, that metaphor got a way from me a little, but I'm saying what Leo did was bad.)
Leo made headlines when he gave an impassioned speech about the dangers of global warming at the Oscars after his win for best actor this year.
In the time before and after, he's continued to advocate for the environment, and his foundation pledged around $15 million to various environmental projects at the World Economic Forum, where he received another award.
Now, don't get me wrong; this is all awesome and important stuff, but Leo seemingly can't stop taking jets and yachts everywhere he goes.
To make matters worse, when Leo returned to France from NYC, he got a helicopter to take him from his villa to a party. Leo seems to like extravagant, gas-guzzling methods of transportation almost as much as he likes advocating for the environment and dumping models.
By the way, supposedly he's dating a Polish model named Ela Kawalec now. Here is a picture of her, because we all know that's the only reason anyone reads about Leonardo DiCaprio anymore.
Satisfied?
Citations: Leonardo DiCaprio's 8,000 mile day trip on a private jet...to collect green award: Actor facing criticism after flying from Cannes to New York and back again (Daily Mail), Leonardo DiCaprio Flew 8,000 Miles on Private Jet to Accept Environmental Award (Daily Insider)