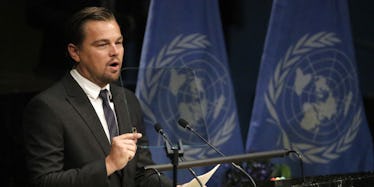 Leo DiCaprio Urged World Leaders To Save The Planet In Powerful UN Speech
REUTERS/Carlo Allegri
On Friday, actor and activist Leonardo DiCaprio delivered a powerful speech at the United Nations urging world leaders to take action on climate change.
He did so during the ceremony for the signing of the Paris Agreement, a landmark treaty between over 170 nations to reduce greenhouse gas emissions and work toward limiting global warming.
The United States was among the nations that signed the agreement, which appropriately occurred on Earth Day.
This is not the first time Leo spoke at the UN on the subject of climate change, but that didn't take away from the eloquence and pertinence of his words.
He said,
There is no doubt in the world scientific community [climate change] is a direct result of human activity and the effects of climate change will become astronomically worse in the future... Climate change is happening faster than even the most pessimistic of scientists warned us decades ago. It has become a runaway freight train bringing with it an impending disaster for all living things... Our planet cannot be saved unless we leave fossil fuels in the ground where they belong. We can congratulate each other today but it will mean nothing if you return to your countries and fail to push beyond the promises of this historic agreement. Now is the time for bold, unprecedented action... It is time to declare no more talk, no more excuses, no more 10-year studies, no more allowing the fossil fuel companies to manipulate and dictate the science and policies that affect our future... The world is now watching, you will either be lauded by future generations or vilified by them.
Leo gave this speech just a day after he was named one of TIME magazine's "100 Most Influential People," largely for his efforts to spread awareness on climate change.
He's not just a great actor, he's a true environmentalist who cares deeply about the world and the dynamic array of species that inhabit it.
Watch Leo's full speech below.
Citations: 175 nations sign historic Paris climate deal on Earth Day (USA TODAY)