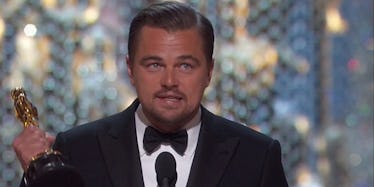 Leonardo DiCaprio Won Best Actor And The Internet Has Never Been Happier
ABC
IT HAPPENED, IT HAPPENED, IT FINALLY HAPPENED! Leonardo DiCaprio, who was first nominated for an Academy Award a mere 22 ceremonies ago, won the Oscar for Best Actor for his performance in "The Revenant."
I, for one, am happy for Leo. He's been nominated for best actor three times already, so this win must have felt incredible.
Whether he truly deserved to win or not, the bottom line is Leo is an amazing actor who truly ranks among Hollywood's finest. He turned in one great role after another over the years, and the award definitely belongs with him.
The groundbreaking moment of Leo's win was not lost on Twitter. Saying Leo received an outpouring of support would be a severe understatement. People not only praised the actor for winning the award that's evaded him for so long, but many also praised his acceptance speech, which he used to discuss climate change.
OMG! Just experienced a historic moment! #Oscars #LeonardoDiCaprio — R (@Zest4Life_) February 29, 2016
Even the Internet's local crazy person chimed in with his support.
Jokes aside, the support the veteran actor received after winning is overwhelming and hugely positive. It seems no matter how you slice it, Leo (and hopefully the environment) is a winner.