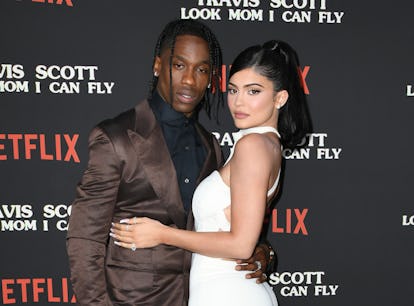 Kylie & Travis' Co-Parenting Relationship Is Going "Well," Per Reports
Despite those shady "Meltdown" lyrics.
Jon Kopaloff/FilmMagic/Getty Images
Kylie Jenner and Travis Scott are keeping their children, Stormi and Aire, top of mind as they navigate co-parenting. On August 4, a source told Entertainment Tonight that the exes are "co-parenting well" — despite the fact that Scott seemingly shaded Jenner's rumored new beau Timothée Chalamet in his latest song.
ICYMI, Scott's "Meltdown" features a pointed lyric about Chalamet and Jenner: "Chocolate AP and chocolate the Vs (Vs), got the Willy Wonka factory (Vs) / Burn a athlete like it's calories, find another flame hot as me, b*tch." (Chalamet plays Wily Wonka in an upcoming movie.) Despite the choice lyrics, sources claim Jenner and Scott's co-parenting relationship is still as strong as ever.
Jenner and Scott are "doing their best to respect one another," an insider told ET. (Apparently, rapping about your ex's new SO not measuring up doesn't qualify as disrespect.) The source added that they "get along and make their kids a priority," even if they're busy "doing their own things" right now.
According to the source, "Travis isn't dating anyone seriously" at the moment, despite the fact that his ex is reportedly moving on. A little recap: Jenner and Chalamet reportedly started dating in April. At the time, a source told ET, "They are keeping things casual at this point. It's not serious, but Kylie is enjoying hanging out with Timothée and seeing where it goes." The insider added, "It's been really fun for her because it feels a lot different than her past relationships. It's new and exciting for Kylie and she's having a lot of fun."
Budding romances aside, it sounds like Jenner and Scott are keeping things civil for the sake of their children — something that's always been a priority for them. Back in October 2019, when Jenner and Scott broke things off a year after welcoming Stormi, a source told People that parenthood was their main focus. "They are both great parents and will co-parent. They don't want their split to affect Stormi too much. As soon as they felt they couldn't figure out their issues, they decided to separate so their disagreements won't affect Stormi," the insider said.
This time around, it seems like the duo is applying this same strategy to their co-parenting arrangement.