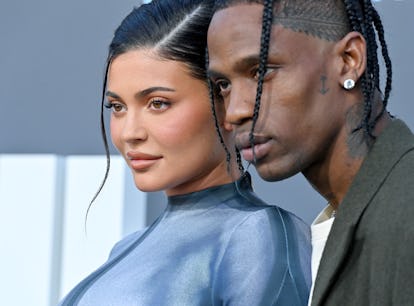 Inside Kylie Jenner & Travis Scott's Reported Custody Agreement
"They're doing fantastic as parents of two."
Axelle/Bauer-Griffin/FilmMagic/Getty Images
After five years of an off-again, on-again romance, Kylie Jenner and Travis Scott reportedly broke up in January. At the time, a source told Us Weekly that despite the couple's new status, they will "always remain friends and great co-parents." Jenner and Scott have two children together, Stormi and Aire (previously named Wolf). And per reports, their custody agreement puts their kids' interests first.
In August 2022, back when Jenner and Scott were still "on," a source told Entertainment Tonight about their co-parenting relationship. "Things between Kylie and Travis are going super well. They have really mastered being together and successfully co-parenting. It's really working for them and they are just living life. They're doing fantastic as parents of two," an insider said at the time.
"Travis is very involved as a father and Kylie loves that," the ET source continued. "He really makes Kylie and his family a top priority, which is a big reason as to why they work as a couple. He is always going above and beyond as a dad and as a partner and Kylie appreciates his dedication to her and their little ones."
Although Jenner and Scott may not be together anymore, it sounds like "successfully co-parenting" is still a major focus for both of them. Details on their latest custody agreement haven't been shared, so there's no way to know exactly what their current arrangement entails. In the past, however, they've kept things cordial.
In October 2019, Jenner and Scott called things off when Stormi was over a year old. At the time, an insider told People, "They are both great parents and will co-parent. They don't want their split to affect Stormi too much. As soon as they felt they couldn't figure out their issues, they decided to separate so their disagreements won't affect Stormi." (Per reports, Stormi continued to live with Jenner in Calabasas following their breakup. Scott owns a home nearby in Beverly Hills.)
According to Us Weekly, there was no "contention" surrounding split custody. A source told the outlet, "It will be 50/50, but it's not a point of contention. It's really whatever is best for Stormi. Travis knows what an incredible mom Kylie is and will make whatever situation work."
The insider continued, "Travis still has a lot of love for Kylie and respects her as a mom. He will be very involved in Stormi's life."