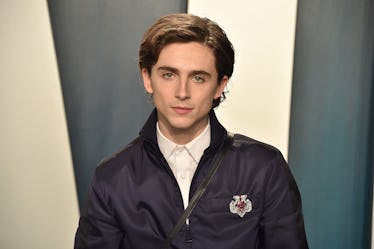 Timothée Chalamet Will Play A Young Willy Wonka In A New Origin Story Movie
Get me to a world of pure imagination, stat.
David Crotty/Patrick McMullan/Getty Images
Willy Wonka and the Chocolate Factory is a beloved classic children's movie. Based on the Roald Dahl book Charlie and the Chocolate Factory, it tells the story of Charlie Bucket, who wins a contest along with four other children to explore Wonka's mysterious factory. But who is Willy Wonka, anyway? Films have only touched the surface of the odd man who runs such a magical place. Now, Warner Brothers and The Roald Dahl Story Co. have teamed up to make the film to tell his story. And according to Deadline, Timothée Chalamet will play Willy Wonka in the new origin story film.
The new film, currently titled Wonka, has been reported to be in the works since January 2021. That was when Deadline reported Warner Bros. Pictures was prepping it for a 2023 release, with Harry Potter producer David Heyman executive producing the project and Paddington director Paul King helming the film from a script he co-wrote with Simon Farnaby.
According to the new report, Chalamet has been the director's first choice for some time, with the film planning to include "multiple musical numbers" that will showcase the actor's singing and dancing skills.
Wonka will mark the third film based on Dahl's Charlie and the Chocolate Factory. The original, which starred Gene Wilder as the eccentric candy maker, is famous for songs like "Pure Imagination" and quotable moments like Wilder dismissively yelling "Good Day, sir!" at Charlie Bucket's grandfather. It has also become an internet favorite for the "Condescending Wonka" meme.
It's also viewed far more favorably than its remake, Charlie and the Chocolate Factory, which starred Johnny Depp in the Wonka role. Although the 2005 film was a hit at the time, bringing in nearly half-a-billion worldwide, it's now considered to have aged badly, partly due to the attempt to give Wonka a backstory. Therefore, an entire movie premised on a Wonka backstory is viewed with a bit of trepidation. Also, how the film intends to deal with the Oompa-Loompa problem is probably critical as well.
That said, King already proved he could silence doubters with Paddington. The adaptation was initially viewed as a bad idea; currently, the trilogy-in-the-making is being treated like a contemporary classic and toppling Citizen Kane on Rotten Tomatoes.
Fans will have to wait and see if Chalamet will be able to go toe-to-toe with memories of the late Wilder's take on the character. Wonka is currently planned for a 2023 release in theaters.