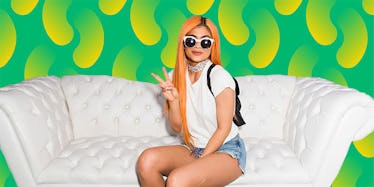 13 Things Kylie Jenner Might Have Gotten Tattooed On Her Butt
REX/Shutterstock
Kylie Jenner apparently got a tattoo on her butt this weekend, presumably because she's an adult woman who can do whatever she damn pleases.
The 18-year-old posted a video on Snapchat of a tattoo artist definitely etching out some ink on someone's butt cheek, and it's most likely Kylie's.
It's not the first time she's gotten ink in that area of her body, either.
Last December, she got a red ink tattoo right above the butt, on her hip bone.
No one's quite sure what that red ink means, but some guess it's the phonetic pronunciation of "insanity."
As for this new tattoo, the Snapchat video was too far away for us to know what it says yet.
So I've taken the liberty of venturing a few guesses as to what Kylie got permanently etched into her gluteus maximus.
1. "This is my butt."
Just in case she's getting hot and heavy with Tyga, who, let's face it, might not be the sharpest tool in the shed. Maybe he gets confused as to what part of Kylie's body he's grabbing!
2. "Left cheek."
Again, labels can be useful, I'm just saying.
3. "Tyga."
Leave it to Kylie to honor her 26-year-old boyfriend by getting his name on her butt.
4. Tyga's face.
Why put into words what you can just convey in pictures instead?
5. Her own face.
If there's anyone Kylie Jenner loves more than Tyga, it's Kylie Jenner.
6. "Blac Chyna."
For opposite reasons, maybe Kylie would get Blac Chyna's name on her butt to DISHONOR her bf's ex-girlfriend.
7 "Check out my latest Lip Kit, launching at 3 pm PST this Friday!"
Anything to advertise her Lip Kits.
8. "Follow me on Instagram, @kyliejenner."
Gotta keep the brand alive!
9. "I'm pregnant."
I just think this would be a cool way to announce those pregnancy rumors were true after all.
10. "If music be the food of love, play on."
Hey, you never know, maybe Kylie Jenner is a big Shakespeare fan!
11. A racial slur.
Honestly, I would not put it past Kylie to do this. You think her cornrows are bad? Just you wait.
12. Something in Japanese that she incorrectly translated.
You know, like she thinks it means "peace" but actually it means "penis" because Kylie Jenner is not Japanese.
13. Lips.
This would actually be cute, not to mention an appropriate representation of her brand.