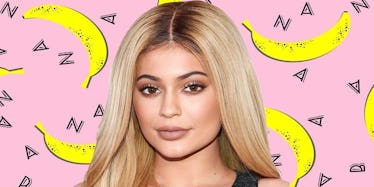 Twitter Had The Best Reactions To That Kylie Jenner Pregnancy Rumor
REX/Shutterstock
FALSE ALARM! Kylie Jenner is NOT baking Tyga's bun in her oven.
Everyone can go back to doing whatever it is you were doing before you chucked your computer out of the window while yelling, "NU UH! NO EFFING UH UH UH!"
Overblown rumors are pretty much the norm for Kylie Jenner at this point. The 18-year-old pop culture staple probably spends as much time painting examples of Lip Kit colors on her arm to shoot for Snapchat as she does deflecting false stories from TMZ about her life.
Up until this point, though, the rumors have all been pretty tame. The most she's had to deal with is occasional feud rumors with Blac Chyna and maybe questions about her dating life.
That changed this week when In Touch reported Kylie was potentially pregnant with Tyga's son.
Jenner quickly shot down rumors in a now-deleted tweet, which reportedly said,
Omg. No I'm not pregnant. It's been the same rumor for years & no baby… So when I decide to go to that next stage in my life... I'll be the first to let you know... Not a weekly blog.
So that was one major false alarm. We can all chill out.
Before we even ATTEMPT to go forward on this, let me just make one thing VERY clear: If -- and WHEN -- this actually happens, everyone just know I kind of called this MONTHS ago.
The internet will react when Kylie and Tyga make a baby happen, and based on how Twitter freaked out during that window when we all thought the King was preggo, it's gonna look really funny.
Cool. Cya guys in a few days for the next Kylie Jenner mega-false scandal!
Citations: Kylie Jenner Sets the Record Straight: "I'm Not Pregnant" (E! News)