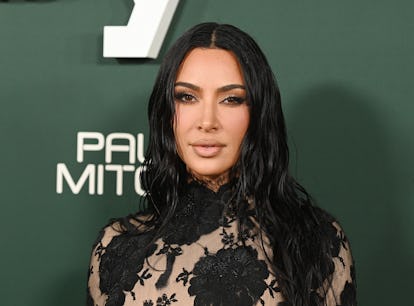 Kim Kardashian Will Star In A Major Movie Called The 5th Wheel
Gilbert Flores/Variety/Getty Images
Kim Kardashian's acting era has been buzzy this year. She recently entered the Ryan Murphy-verse with American Horror Story: Delicate, where she starred as an unfiltered, Kris Jenner-coded publicist named Siobhan. Her character was determined to get her clients an Oscar, and it seems that drive boiled over to real life. On Nov. 20, Deadline reported Kim will produce and star in an upcoming film called The 5th Wheel.
According to the outlet, The 5th Wheel is a "female-driven comedy" that features some impressive behind-the-scenes talent. The movie was written by Saturday Night Live alum Paula Pell, who will share producer duties with Kardashian and her Wine Country co-star Janine Brito. The trio haven't released any further details about the film; however, the plot seems to have some major potential. Deadline revealed that five unnamed studios have lined up with offers to purchase the movie.
"Kardashian has been very hands on in the pitch, appearing at each meeting to deliver the pitch and the studios are lining up to get in business with Kardashian," per the outlet. Siobhan would be proud of this moment.
The 5th Wheel is the latest pin in Kim's IMDb credits. Aside from appearing in the newest season of The Kardashians, the reality star reprised her voice-acting role as Delores (the talking poodle) in Paw Patrol: The Mighty Movie this summer. Her eldest daughter, North West — who's already shown she's a natural comedian — also starred in the dog-centered film.
Though she's dabbled in the movie biz in the past, The 5th Wheel will mark Kardashian's first lead role in a major motion picture. She's previously acted in smaller supporting roles in 2008's Disaster Movie, 2009's Deep in the Valley, and 2013's Temptation: Confessions of a Marriage Counselor. Clearly, Kardashian's looking to become a permanent fixture on the small and big screen.
Here's everything to know about the The 5th Wheel, below.
The 5th Wheel Isn't In Motion... Yet
Due to the upcoming film going through the bidding process, neither a release date nor a trailer has been revealed.
The Film's Cast Is Still Unknown
So far, Kardashian is the only star confirmed to appear in the film.