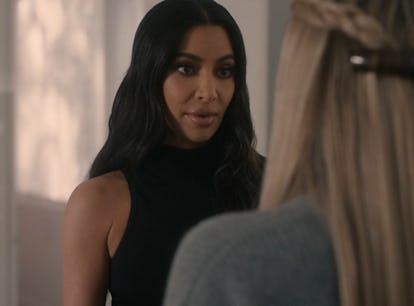 I'm Obsessed With This Theory Kim K Is Using AHS To Shade Her Family
FX
The new season of American Horror Story is trippy and surreal, but for Kim Kardashian, a lot of elements feel very close to home. As soon as Kardashian's character was revealed in the first episode of AHS: Delicate, viewers quickly drew comparisons between the fictional cutthroat talent manager and Kardashian's real momager Kris Jenner. And the Kardashian family Easter eggs didn't stop there.
For her big AHS debut, Kardashian is playing Siobhan Corbyn in Delicate, a high-powered Hollywood agent who recently started representing actor Anna Alcott amid her sudden rise to A-list prominence. Siobhan is also one of Anna's closest friends, although her motives aren't entirely clear yet, since she does seem to pop up whenever weird stuff is going on with Anna's pregnancy.
But for longtime Kardashian fans, the best part about Siobhan is just how many references to IRL Kardashian family scandals surround her character. After noticing multiple sly Easter eggs, some fans have become convinced that Kardashian took the role to make light of past drama, and throw some fun little shade at her family members.
Here are the best Easter eggs so far.
1. Cutting The Cucumber
In Episode 3, Siobhan makes a smoothie for Anna after she thinks she miscarried her baby. Notably, the camera zooms in on Siobhan cutting up a cucumber, which she continues to do throughout the scene. The moment seems to be a reference to Kendall Jenner's botched attempt at cutting a cucumber, which went viral last year.
2. The Dress Drama
In the second episode, Siobhan secures a vintage Madonna dress for Anna to wear to an awards show, and gives her an adamant warning as she tries it on: "Don't rip it!" The whole plotline is spoofing Kardashian's own dress drama, when she wore an iconic Marilyn Monroe gown to the Met Gala as onlookers accused her of ruining the garment.
3. Kris Inspo
It's easy to see where Kardashian drew her inspiration for the character of Siobhan. The no-nonsense, hard-working manager shares many similarities to Kardashian's own mother, Kris Jenner.
4. The Nepo Babies Rant
As Siobhan is hyping Anna up to go to an awards ceremony, she goes off on a rant about how celebrities like Jamie Lee Curtis are sick and tired of always being asked about nepotism. Notably, Kardashian and her sisters have also been vocal about not liking the "nepo baby" label that's been placed on them. To make the scene even more meta, Emma Roberts is also one of the most well-known nepo babies in Hollywood.
5. The All-Black Looks
As Anna's pregnancy becomes freakier, she begins to see figures dressed in all-black gowns that cover their entire bodies stalk her. The looks are incredibly similar to Kardashian's own 2021 Met Gala outfit.
6. The Overall Theme
It's no wonder AHS: Delicate spoke to Kardashian. This season's theme is all about a young woman thrust into fame, who also has to deal with the new struggles of motherhood. That exact balance is also at the core of Kardashian's decades-long reality television career.