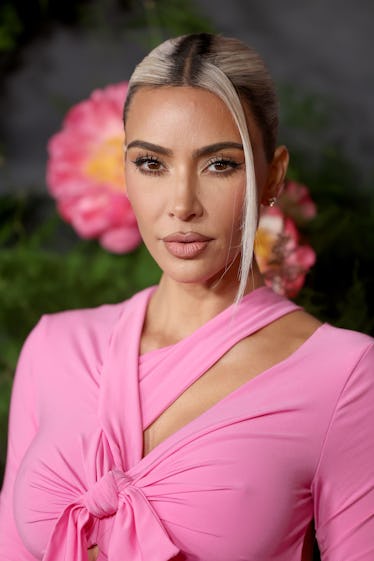 Let's Unpack Those Kim, J.Lo, & Oprah Selfies
Phillip Faraone/Getty Images Entertainment/Getty Images
Let's be honest: Celebrity parties are entertaining to watch, especially when juicy, behind-the-scenes details are shared on Instagram. However, the real MVPs are the random celebrity pairings spotted at these events — like, very random. Some of these chance encounters are true head-scratchers, so much so that your brain will start repeating Mo'Nique's "huh?" in making sense of it.
This was certainly the case for Anastasia Beverly Hills' recent 25th anniversary event. ICYMI, on Jan. 29, founder Anastasia Soare hosted a dinner party to celebrate her iconic beauty brand's longevity. The party's lineup was filled with odd celebrity link-ups, including Kim Kardashian's selfies with Oprah Winfrey and Jennifer Lopez. Not to be dramatic, but I would've loved to be a fly on the wall to see this trio pose for a photo-op together.
On. Jan 30, Kim offered up some serious FOMO by sharing a photo dump of pictures from the party. The photo carousel features a few shots of her and momager Kris Jenner posed with Soare.
"Celebrating @anastasiasoare's 25 year anniversary of her brand @anastasiabeverlyhills," Kardashian captioned the carousel of pictures. "You are the epitome of the American Dream and I couldn't be more proud of you. I look up to you, you give the best advice and hearing everyone's kind words about you just reminded me what I already knew."
She also shouted out the other celebrities who attended, which included Gayle King, Priyanka Chopra, Jessica Alba, Heidi Klum, Sofia Vergara, Alessandra Ambrosio, and more. This group's roster is interesting, and in certain cases, actually makes sense. Being that Anastasia Beverly Hills is such a mogul in the cosmetics industry (seriously, are you really a makeup lover if you don't own at least one of their dip brows?), it's understandable why models and beauty brand owners like Alba, Cindy Crawford, and J. Lo would be in attendance.
But then, it takes such a random turn when you see stars like Ashley Tisdale and Lori Harvey in the mix. They're definitely influential women; however, I would've never imagined them to be at the same party.
As for Kim's carousel of photos, the ones that stuck out were from the actual dinner table. In two photos, Kim can be seen snagging a photo with Oprah and J. Lo, who were seated next to one another. OK, I need to know who did the seating arrangements for the dinner party, because who would've thought to have them seated together?
In Kim's comments section, many users couldn't help but to notice Oprah was centered in the middle of the photo. However, there seems to be a reason behind that — besides the fact she is the Oprah. According to People, this party was also a birthday celebration for the former talk show host, who turned 69 the day prior. Well, now it makes even more sense why her bestie, Gayle King, was in attendance.
J.Lo also posted a photo dump from the party. The most notable picture was the last one, which sees her and Kim leaned back chatting. Similar to Kim's random selfies, it truly makes you wonder what they could be talking about?
Come to think of it, they could be swapping tips about their beauty brands? In 2020, Lopez launched her skincare line JLO Beauty, and her collection has branched out to complexion products. Meanwhile, Kim has the skin-meets-makeup empire in the bag with her SKKN BY KIM collection and retired KKW Beauty. Either way, seeing these two duck-lipped with Oprah was not on my 2023 bingo card.