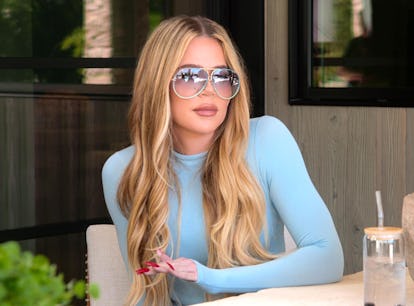 Khloé Quoted A Taylor Swift Lyric To Diss Kris' Momager Habits
Things tend to get tricky when business and family mix. It's a combination that has worked for the Kardashian-Jenner clan for years, but not without its sticking points. Past episodes of Keeping Up with the Kardashians and the Hulu continuation series The Kardashians have focused on Kim, Kourtney, Khloé, Kylie, and Kendall's issues with their mother Kris' management style, but never to the degree that Khloé called out her mom in the latest episode of the show. She even pulled out a Taylor Swift lyric to really drive her point home.
The Nov. 2 episode of The Kardashians reached a boiling point when Khloé confronted her momager for overwhelming her with work and then leaving her high and dry with "no support."
"I think one of my frustrations with you is there's not a lot of follow-through after something is done," Khloé said. "And this is me talking to you as my manager." The retort came after Kris approached her daughter with an idea to launch a podcast, which Khloé flatly refused.
"If I go ahead and take on a podcast deal, then I'm overwhelmed with work that I'm doing all on my own because I have no team, no support," Khloé said. "And so before I take on another project, I need to fix the 20 that are so f*cked up and I don't even know how to do that."
Khloé specified that while she supports her mom taking trips and being off the grid whenever she wants, it's frustrating when she can't get a hold of her as her manager for work-related problems.
"There's issues that I have with my manager, not my mom, my manager," Khloé clarified. "And when I try to address those issues, I get a lot of pushback, and it's guilt trips — things that a mom would do. And those lines get really blurred. They're very gray."
When Kris continued to push the podcast idea despite Khloé's concerns, the Good American founder shut the whole discussion down. "I'm not going to continue the conversation, and I'm not talking to this bullsh*t that you keep trying because I'm never f*cking heard," Khloé said.
She ended things by referencing one of Taylor Swift's "Bad Blood" lyrics: "We put a Band-Aid over a bullet hole," Khloé concluded, signaling her deep-seated frustration with Kris as her momager aren't going away anytime soon.