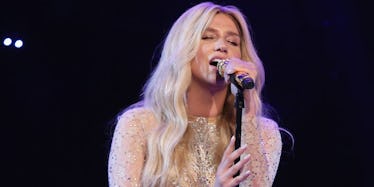 Kesha Fans Are Rallying Outside Sony's Headquarters To Protest Her Case
Getty Images
Kesha's fans have more than stepped up to the plate after a Manhattan court ruled against the pop icon last week.
The conflict between Kesha and Sony stems from claims the music star was verbally, physically and sexually abused by her producer, Dr. Luke, since being brought onto his record label about 10 years ago.
Kesha goes so far as to claim Dr. Luke, whose label is under the larger Sony Music Entertainment umbrella, drugged and raped her at one point while under contract.
Kesha's attempt to break her contract with Sony in order to literally just not work alongside her alleged rapist was struck down last week after the New York Supreme Court ruled it wasn't in a position to nullify her deal.
Since then, various celebrities came out to support their fellow artist, though more importantly, Kesha's fans came out in full force, starting online petitions to sway Sony to release Kesha from her deal.
They have even begun to take their complaints offline and deliver them straight to Sony in real life.
On Friday, Kesha fans showed up to Sony headquarters in person to protest the music company and its insistence on keeping the music star trapped under a label that also employs her alleged rapist.
The fans' efforts have not gone unnoticed, either. Kesha released a small song as a form of appreciation to her fans for everything they've done.
Hopefully this helps Sony change its mind and act like -- oh, I don't know -- a group of f*cking human beings for once in its existence.
Citations: Kesha Fans Are Protesting Outside the Sony Office in NYC and Asking the Company to "Free Kesha" (Complex)