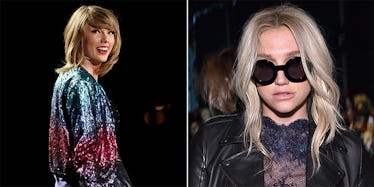 Taylor Swift Just Donated An Insane Amount Of Money To Kesha
Getty Images
Say what you want about Taylor Swift, but that girl always sticks up for her squad.
Last week, Kesha and the state of music industry ethics as a whole suffered a major blow after the Manhattan supreme court's horsesh*t ruling against the pop star's attempt to break her contract with Sony.
According to Kesha, the suit stems from her reluctance to work further with producer Dr. Luke (Luke Gottwald), who she claims had been verbally, physically and sexually assaulting her for 10 years.
Because of the court's ruling, Kesha is now being forced to make music for the same company that employs her alleged rapist.
Yeah, you should be furious about that.
Since the ruling, Kesha's fans and various other celebrities have come out to support her publicly.
Several petitions to help Kesha end her contract with Sony have also begun popping up online.
One celebrity deserves a little more recognition than all the rest, though.
Taylor Swift has apparently gone above and beyond the call of duty during Kesha's legal setback, allegedly donating $250,000 to the singer as a sign of good will.
A spokesperson from Swift confirmed she did send the money over to Kesha, telling E!,
In a show of support, Taylor Swift has donated $250,000 to Kesha to help with any of her financial needs during this trying time.
Keep in mind, this move comes after Demi Lovato went on some weird Twitter rant on Sunday calling out Swift for not voicing any support for Kesha.
Actions speak louder than tweets, Demi.
Citations: Taylor Swift Shows Her Support for Kesha With 250000 Donation Amid Ongoing Legal Battle With Dr Luke (E!)