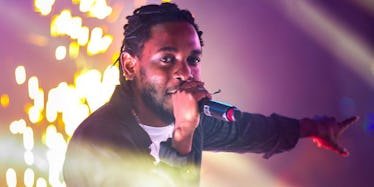 Kendrick Lamar Dropped New Music For The First Time In A Year And It's Fire
REX/Shutterstock
Kendrick Lamar is back with a new single, and we didn't even have to wait that long at all.
The Grammy-winning rapper quietly dropped a new song, "The Heart Part 4," late Thursday night. The song is available for purchase on iTunes for $2.19 and available for free streaming on Spotify.
The song features an intro from a young up-and-coming singer named Khalid, and ends on Kendrick rapping,
Y'all got til April the 7th to get your shit together.
So perhaps Kendrick is teasing April 7 as the release date of his next album?
He also raps about a confrontation between two NBA stars, Chicago Bulls' Robin Lopez and Toronto Raptors' Serge Ibaka, that occurred just two days ago, meaning there was very little turnover time between this song's recording and its release.
Kendrick also references Donald Trump and the current investigation of his administration's ties to Russia, rapping,
Donald Trump is a chump, know how we feel punk/Tell em that God comin', and Russia need a replay button, y'all up to something.
Overall, the fan reaction to this new track was pretty dang positive.
And many fans couldn't resist a dig at Drake, who released his album, More Life, less than a week ago.
Poor Drake. Fella can't catch a break.
On Thursday, the 29-year-old rapper teased fans on Instagram with an ambiguous photo of a Roman numeral four, after deleting all his previous posts.
In the caption of the photo, Kendrick wrote,
The Time is here And The King Has Returned @kendricklamar All you lil boys from the new school rap better bow don to the last real greatest Artists #Suckas #RoleModel #gemini #LetsGetIt
Kendrick has since deleted that post, too. (I don't understand that marketing strategy, but you do you, Kendrick.)
It now seems almost certain the photo was teasing Kendrick's upcoming fourth studio album.
See you all again on April 7, maybe!
Citations: Like Follow Follow Drop everything: Kendrick Lamar just dropped a surprise new track (Mashable)