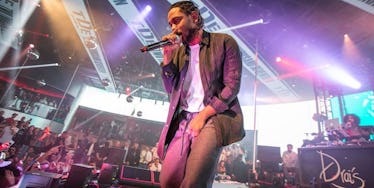 Kendrick Lamar's Fans Think His Latest Insta Proves He's Dropping A New Album
REX/Shutterstock
Is Kendrick Lamar about to drop his fourth album?
After deleting all of his previous Instagram uploads, the 29-year-old rap icon posted a picture Thursday morning that is making his fans freak out.
WHAT DOES THIS MEAN, KENNY?!?!?!
ARE YOU DROPPING A NEW ALBUM OR WHAT??!?!
The now-deleted caption of the photo seemed to imply that Lamar is back after a two-year hiatus from making full records. The message was pretty vague, reading,
The Time is here And The King Has Returned @kendricklamar All you lil boys from the new school rap better bow don to the last real greatest Artists #Suckas #RoleModel #gemini #LetsGetIt
YOU HEAR THAT, NEW SCHOOL RAP BOYS???? KENDRICK LAMAR IS GOING TO MURDER YOU! (Rap murder, not actual murder-murder.)
There isn't really any other information out there about Lamar's intentions with this post. While Kendrick did release new music in 2016, he hasn't released a new full album since To Pimp a Butterfly came out in 2015.
While speaking to T magazine recently, Kendrick talked about some of what he hopes to accomplish with this mystery album coming out. He said,
I think now, how wayward things have gone within the past few months, my focus is ultimately going back to my community and the other communities around the world where they're doing the groundwork. To Pimp a Butterfly was addressing the problem. I'm in a space now where I'm not addressing the problem anymore. We're in a time where we exclude one major component out of this whole thing called life: God. Nobody speaks on it because it's almost in conflict with what's going on in the world when you talk about politics and government and the system.
Kendrick fans are obviously freaking out about his announcement this morning.
No GIF in the world can properly describe the emotions happening online today.
TL;DR: Kendrick is probably back.
Citations: Kendrick Lamar May Have Just Announced His Fourth Album and Fans Are Freaking Out (Complex)