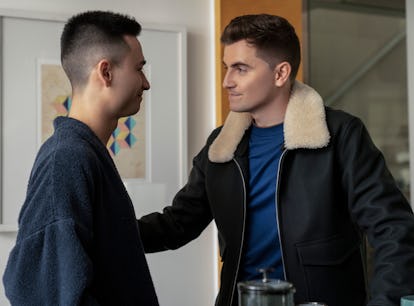 Ted Lasso Finally Got Gay In Season 3 & Fans Are Thrilled
Apple TV+
AFC Richmond may not be scoring many goals in Season 3 of Ted Lasso, but its players are scoring off the field. The new season has shifted its focus to new romantic storylines that feel totally fresh for the series. In its first two seasons, the show exclusively featured heterosexual relationships, but in Season 3, Keeley and Colin's LGBTQ scenes have made Ted Lasso even more of a treat.
Spoiler alert: This post discusses details from Ted Lasso Season 3, Episode 5. The third season kicked off by imploding one of the show's central relationships: Roy and Keeley. The fan-favorite couple was already on the verge of breaking up at the end of Season 2, having been pulled apart by their new career opportunities, and the first episode of Season 3 finally pulled the trigger. Although the breakup was painful, it cleared the way for one of Ted Lasso's most exciting pairings yet. As Keeley began to realize how much she had in common with her new investor Jack, she suddenly kissed her, and Jack reciprocated. Obviously, it's a little messy since Jack is basically Keeley's boss, but it was still a moment many fans had been waiting a long time for.
Although she's never explicitly stated her sexuality, a lot of Ted Lasso fans held Keeley up as a bi icon even before this moment. So when the kiss happened, everyone was celebrating.
But Keeley isn't the first bit of LGBTQ representation Season 3 has gifted fans with. Episode 3 of the season started off with confirmation that Colin Hughes, an often-overlooked player on the Richmond team, has been hiding his sexuality from his teammates. As with Keeley, some fans picked up on subtext about Colin possibly being gay in the first two seasons, but now it's become a legitimate storyline central to the third season.
Because Ted Lasso didn't feature any LGBTQ relationships or characters in its first two seasons, fans are thrilled that Season 3 has finally embraced gay and bi romances.
New episodes of Ted Lasso Season 3 are released Wednesdays on Apple TV+.