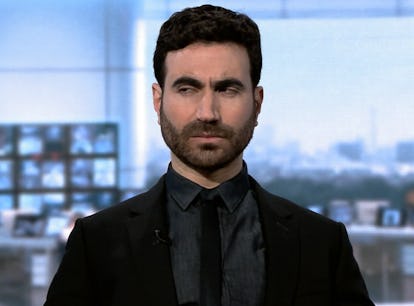 The Real-Life Roy Kent Poked Fun At A Ridiculous Ted Lasso Conspiracy Theory
This is unreal. Literally.
Apple TV+
Roy Kent contains multitudes. The former football star is equally at home growling out expletive-laden insults at his players as he is lovingly doting on his girlfriend Keely or gossiping over wine with his lady friends. Apparently, the Ted Lasso is just too unbelievable for some viewers, which has given rise to a strange conspiracy theory bubbling up on the internet. After the strange speculation blew up on Twitter, actor Brett Goldstein responded to the Ted Lasso theory that Roy Kent is CGI by sharing a hilarious video statement.
As Ted Lasso fans continue to enjoy Roy's softer side in Season 2, a bizarre theory began to take hold on Reddit. On Aug. 28, a fan shared multiple screenshots to Twitter showing various Redditors asserting that the character Roy Kent must be completely computer generated, rather than portrayed by a human actor. Some theorists go so deep as to speculate that Apple is using the character of Roy to show off some state-of-the-art new CGI technology.
Of course, the conspiracy is totally ridiculous. Comedian Brett Goldstein has appeared in numerous TV shows and movies prior to Ted Lasso, including a main role in David Hasselhoff's 2015 comedy series Hoff the Record and an appearance on Doctor Who.
Once Goldstein caught wind of the CGI theory, he decided to poke some fun at it by posting a video statement to his Instagram on Thursday, Sept. 2. "There's a f*cking load of mad sh*t happening on the internet today as usual, and I just want to clear up something once and for all," Goldstein said, jokingly using an animated filter on his face. "I am a completely real, normal human man who just happens to live in a VFX house, and does normal human basic things like rendering and buffering and transferring data."
Well, that clears that up. Or maybe it doesn't for the people who were absolutely convinced Roy is secretly an animated character. Either way, fans can catch new episodes of Ted Lasso when they drop Fridays on Apple TV+.