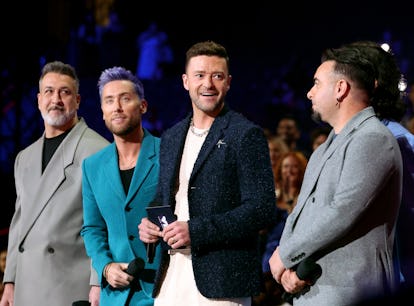 Justin Timberlake Revealed A Language Barrier Led To His Most Famous Lyric
You can thank the Swedish language for your favorite NSYNC meme.
Mike Coppola/Getty Images Entertainment/Getty Images
Turns out, one of Justin Timberlake's most iconic lyrics ever came from a moment when he wasn't so in-sync with his music producers. In the midst of NSYNC's ongoing reunion, Timberlake reminisced on how one puzzling pronunciation choice led to over two decades of inescapable meme gold. The singer revealed a language barrier in the studio while recording "It's Gonna Be Me" is to thank for Timberlake becoming the face of May.
Timberlake revealed the origin of his unique pronunciation in NSYNC's hit 2000 single during the band's Sept. 21 episode of Hot Ones. When asked about a rumor that he was given a note to sing the "me" in "It's Gonna Be Me" meaner, Timberlake clarified that the song's writers and producers were emphatic about him singing "may" instead of "me."
"I sang, 'It's gonna be me,' and he was like, 'No, no, no, no, no, no,'" Timberlake recalled. "He was like, 'It's may! May!'" The song was written by Max Martin, Andreas Carlsson, and Rami Yacoub, all of whom are Swedish. JC Chasez brought up how their accents may have been part of the pronunciation choice. "You also have to remember their Swedish accents, and they had done a demo of it and were like, 'It's like this,'" Chasez added.
"Yes, it was a specific note that I got," Timberlake continued, "And I was just like, 'These guys are crazy.' ... But I did it the way he requested and that's what made the record."
Of course, Timberlake now understands that the choice paid off big time. April 30 has become an unofficial holiday honoring Timberlake, as the internet explodes in "It's Gonna Be May" memes and jokes ahead of the new month each year.
Timberlake credited the song's writers for its lasting significance, noting how their Swedish accents actually helped them make better English-language music. "Specifically to Max Martin, the parts of their English that were broken actually made them catchier songwriters," Timberlake noted. "Because they would put words in a way that almost didn't make sense, but when you sang them, they were more memorable."