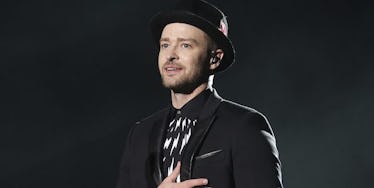 The Best 'It's Gonna Be May' Jokes & Memes
Youssef Boudlal/REUTERS
April showers bring May flowers. But first, April 30 brings something even more glorious — an endless supply of "It's Gonna Be May" memes and jokes. Courtesy of the oft-misheard 2000 NSYNC tune, "It's Gonna Be Me," the jokes began in 2012 and they've only grown in popularity over the past five years.
Even Justin Timberlake has decided to embrace the phenomena. If you can't beat the Internet, join 'em — right?
The answer is yes! Timberlake hasn't meme'd himself yet, but there's still time. If anyone needs me, I'll be refreshing his Twitter feed until midnight on April 30.
Giphy Users Have Their Game Faces On
You Can Never Go Wrong With A "Game Of Thrones" Reference
This warning came too late, but it's much-appreciated.
May Won't Be Real Until You Hear The Joke
We need an onslaught of "It's Gonna Be May" jokes — otherwise we'll be stuck in April for all eternity.
This Dog Is So Ready For May
And he's got a poem to match. Awww.
Snickers Is Here To Remind Everyone To Credit The Correct Boy Band
...and to plug their candy, of course.
Do you still feel tepid about the "It's Gonna Be May" jokes? Well, even President Obama jumped on the bandwagon back in 2014 and it makes me love him even more. (Yeah, I didn't know it was possible, either.)
Justin Timberlake's Twitter notifications are undoubtedly blowing up right now. But, there is an upside to this for *NSYNC — according to data from YouTube, the "It's Gonna Be Me" music video has its biggest spike in popularity on (you guessed it!) April 30.
April 30 only comes around once a year, so get in all your "It's Gonna Be May" jokes now or forever hold your peace.
Citations: A Critical History of That 'It's Gonna Be May' Meme (Time), 'It's Gonna Be May' Meme Gives NSYNC A Boost On YouTube (Forbes)