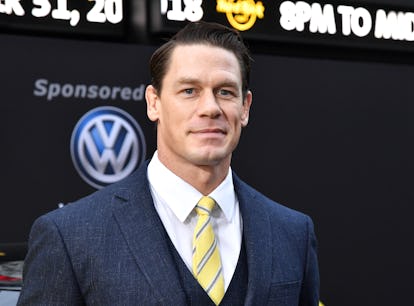 John Cena's Barbie Role Was Finally Revealed & It Teases A Dua Lipa Romance
Didn't see this reveal coming.
Variety/Penske Media/Getty Images
When the Barbie cast was revealed in those now-iconic character posters, one person was noticeably missing. Maybe it was a little nod to his viral "you can't see me" meme, but John Cena was the only main cast member to not show up in the posters. It wasn't until weeks later that Cena's Barbie role was finally revealed, and it definitely sounds like his character will be closely linked to Dua Lipa's.
The big reveal came in new footage that was shown at CinemaCon on April 25. Publications in attendance, including Collider, confirmed Cena is playing a merman Ken doll in the upcoming movie. Although any other details about his role are still shrouded in mystery, the description seems to confirm earlier reports that his character will be the love interest for Dua Lipa's Barbie. Unlike most of the rest of the female cast in the movie, Dua Lipa's version of Barbie will be a mermaid. With Cena being the only merman Ken, it would only make sense that his character's story will likely be intwined with Dua Lipa's character.
The John Cena revelation wasn't the only important Barbie tidbit to come out of CinemaCon. Director Greta Gerwig also may have confirmed a major fan theory about the movie's central plot. During the Barbie panel, Gerwig cited The Wizard of Oz as an inspiration for the movie. Although the actual plot of the movie has yet to be revealed, this comment definitely seems to confirm the popular theory that Barbie's story will closely mirror that of the iconic 1939 film classic.
The theory first arose after the Barbie trailer dropped, when fans noticed numerous references to The Wizard of Oz in the footage. All the signs seemed to point to a story in which Margot Robbie's Barbie journeys through a strange new land (AKA the real world) making friends along the way that help in her quest to get back home. And apparently, that journey will feature two mermaid dolls, who may or may not be romantically involved.
Barbie will paint the town pink when it arrives in theaters on July 21.