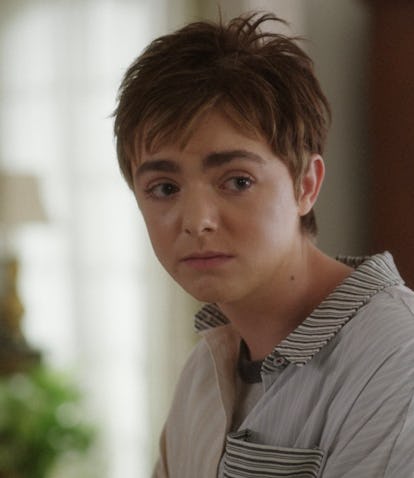 Jenny Han Called Out TSITP Fans For Sending Hate To Elsie Fisher
The whole situation has gotten out of hand.
Prime Video
The Summer I Turned Pretty creator is not very happy with the show's fandom right now. Following the introduction of Elsie Fisher's new character Skye in Season 2 of the teen romance, the actor was met with a tidal wave of hate on social media. Though Fisher has ignored the backlash, Jenny Han called out the "hurtful" behavior in a note to the fans, reminding them that the series is meant to foster inclusivity, not hate.
The whole mess began when Episode 4 of The Summer I Turned Pretty Season 2 dropped on July 21, which focused largely on Conrad and Jeremiah's cousin Skye, a non-binary loner who was not in Han's Summer novels. Initially at odds with their cousins, Skye started to connect with them and with Belly, Steven, and Taylor throughout a fun day at a fair. The character added an entirely new wrinkle to the central conflict over selling the beach house, which is much less nuanced in the books, but some viewers didn't see it that way. Cringe compilations of Skye's scenes started going viral on TikTok, and confusingly, some people began unfavorably comparing them to the completely unrelated character of Shayla, who did not return for Season 2.
Of course, it's fine to dislike a TV character, but it becomes a problem when haters start harassing the actor, which is what happened to Fisher. The comments section on their Instagram posts flooded with misplaced hate, simply because people didn't like the character they played on a TV show. Fisher has been ignoring the weird animosity, but Han stepped in to make her disappointment known.
"The whole Summer cast and crew have worked hard to make a show we hope you will love, and we are so excited to share it with you guys. The Summer I Turned Pretty community is one of inclusivity," Han in an Instagram Story the day of Skye's episode. "The hurtful comments directed at cast are not in the spirit of the show. Please be mindful of what you're putting out there and of who is seeing it."
Hopefully, the "fans" can take in Han's message and simply enjoy the rest of The Summer I Turned Pretty Season 2, which airs new episodes each Friday on Prime Video.