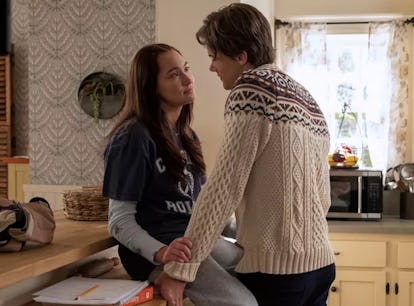 An Essential Timeline Of When Everything In Summer I Turned Pretty Season 2 Happened
All the time jumps can get so confusing.
Prime Video
Season 2 of The Summer I Turned Pretty took a big step away from the show's title. The first season was set in the course of one summer, as Belly explored her feelings for Conrad and Jeremiah over a few months at their beach house. But now that summer is over, the second season isn't so linear. Filled with massive time jumps and constant flashbacks, it's not as easy to follow the events of The Summer I Turned Pretty Season 2. Thankfully, this timeline will help lay everything out.
The unconventional structure of The Summer I Turned Pretty Season 2 can be a bit jarring at first. It doesn't pick up right after the events of Season 1's finale, but rather an entire year later. It's clear a lot has gone done in that past year, but viewers only get bits and pieces of Belly's tumultuous breakup, make-up, and then breakup again with Conrad throughout the first few episodes. To make it even more confusing, long flashbacks kick in almost every other scene, and it may not be immediately evident where these moments are placed in time.
If you're trying to keep everything in order as you dive into The Summer I Turned Pretty Season 2, here's a very essential timeline of when everything really happened.
Last Summer — Conrad and Belly get together, then break up
At the end of Season 1, Belly and Conrad finally confessed their feelings for one another, but unfortunately, their relationship was over before it could really begin. Once Belly told Jeremiah that she kissed Conrad so shortly after she had kissed him, the younger Fisher had a meltdown. In order to not hurt Jeremiah further, Belly told Conrad they should just remain friends.
Fall — Conrad and Belly have deep phone conversations.
With Conrad off to college, Belly was able to keep him at a distance for a while, but they both couldn't resist checking in on one another. Soon, their phone calls grew deeper, and the chemistry was too much to ignore, even if they were miles apart.
Christmas — Conrad and Belly have sex.
After months of phone calls, Conrad surprised Belly over Christmas break by taking her on a secret road trip to the beach house on Cousins Beach. After downing some hot cocoa and marveling at the snow-covered beach, the two had sex for the first time by the fireplace.
Spring - Conrad and Belly break up at prom.
As always seems to be the case with Conrad and Belly, their relationship high almost immediately hit a new low. With Conrad sullen and distracted by his mother's failing health, he was withdrawn and cold to Belly during what should have been her perfect prom night. When Conrad insisted on cutting the night short, Belly broke up with him.
Late Spring — Susannah's death and funeral.
Sometime after prom, Susannah died of cancer. Her funeral was particularly tense for new exes Belly and Conrad, who devolved into a screaming match at the reception. The fight further cemented their breakup.
Early Summer — Steven's high school graduation.
Season 2 picks up at the very end of the school year, as Steven graduates high school and Belly is still mourning the loss of Susannah, as well as the fresh wounds from her nasty breakup with Conrad.
Summer — Back to Cousins Beach.
It wouldn't be The Summer I Turned Pretty without the summer. The bulk of Season 2 takes place at the Cousins beach house, where Belly, Conrad, and Jeremiah must fight to save their beloved getaway from being sold off by their Aunt Julia.