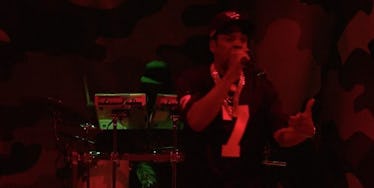 JAY-Z Wore A Colin Kaepernick Jersey On 'SNL' For The NFL Protests And People Lost It
Variety
Everyone's favorite late-night show kicked off its latest season on a political note. SNL's "Weekend Update" took aim at President Donald Trump's response to hurricane relief efforts in Puerto Rico, which caused quite an uproar — especially regarding Michael Che's words for the commander in chief. Alec Baldwin returned to imitate the president. Even the musical performance featured political undertones. JAY-Z wore a Colin Kaepernick jersey on SNL, so it's safe to say that everyone had a message for #45.
During his performance of "Bam" alongside Damian Marley, the rapper turned around to face the camouflage background and revealed a "Colin K" on his black number 7 jersey. Kaepernick, the former San Francisco 49ers quarterback, is the one who got the ball rolling with Trump. He was the first to take a knee during the National Anthem to demonstrate against injustices. Needless to say, plenty of other players have followed suit over the past few weeks, making for a very unhappy president.
Though JAY didn't actually say anything, his clothing options definitely spoke volumes, especially considering the president had a word of wisdom for the nation regarding their Sunday football games (a message he delivered via Twitter, naturally).
In between tweets about Puerto Rico, Trump said, "Very important that NFL players STAND tomorrow, and always, for the playing of our National Anthem. Respect our Flag and our Country!"
Naturally, Twitter responded to JAY-Z's Kaepernick jersey.
Some took issue with his performance.
Regardless of personal stances on the rapper's outfit selection, it definitely got everyone's attention.
As of late, JAY-Z has not only made political statements, but worked with his wife Beyoncé to respond to what's happening around the country. The power couple hosted a benefit concert for those who were affected by Hurricane Irma and Hurricane Harvey. Beyoncé and JAY-Z's hurricane benefit concert will be held on on Tuesday, Oct. 17, at the Barclay's Center in Brooklyn, New York. Speculation is high that Bey and JAY-Z will take the stage with other Roc Nation artists, which could possibly include, Rihanna, HAIM, Willow Smith, DJ Khaled, among others. The show is a mere 10 days before JAY-Z kicks off his world tour for his new album, 4:44.
According to Queen Bey's video, she and her husband want to take a stand with what's happening around the world. She said,
It's impossible to watch the news without seeing violence or racism in this country. Just when you think it couldn't possibly get worse, natural disasters take precious life, do massive damage, and forever change lives, leaving behind contaminated water, flooded hospitals, schools, and nursing homes, and countless families are now homeless. In my hometown city of Houston, people need food, clothing, cleanig supplies, blankets, shoes, diapers, and formula for babies, and of course, clean water. The elderly need wheelchairs and kids need books and toys so they can continue to dream. Natural disasters don't discriminate. They don't see if you're an immigrant, black or white, Hispanic or Asian, Jewish or Muslim, wealthy or poor. It doesn't matter if you're from [Houston neighborhoods] Third Ward or River Oaks, we're all in this together.
While JAY-Z took on the NFL issue that's pit the players vs. the president — and caused the rest of the country to take sides — "Weekend Update" decided to focus on the devastation in Puerto Rico.
Colin Jost kicked off the digs by commenting on the president's response to the destruction in Puerto Rico via Twitter. He joked,
Well, after President Trump was criticized for a terrible response to Hurricane Maria, this morning he gave the people of Puerto Rico what they needed most: a bunch of tweets straight-up calling them lazy.
Jost's co-host, Michael Che, took the political commentary up a notch. In a fiery response to the president's actions, he made no bones about stating his feelings — even calling the president a "b*tch." He said,
This isn't that complicated, man, it's hurricane relief. These people need help. You just did the same thing for white people, twice. Do the same thing…
It seems like we're in for a very interesting 43rd season of SNL.