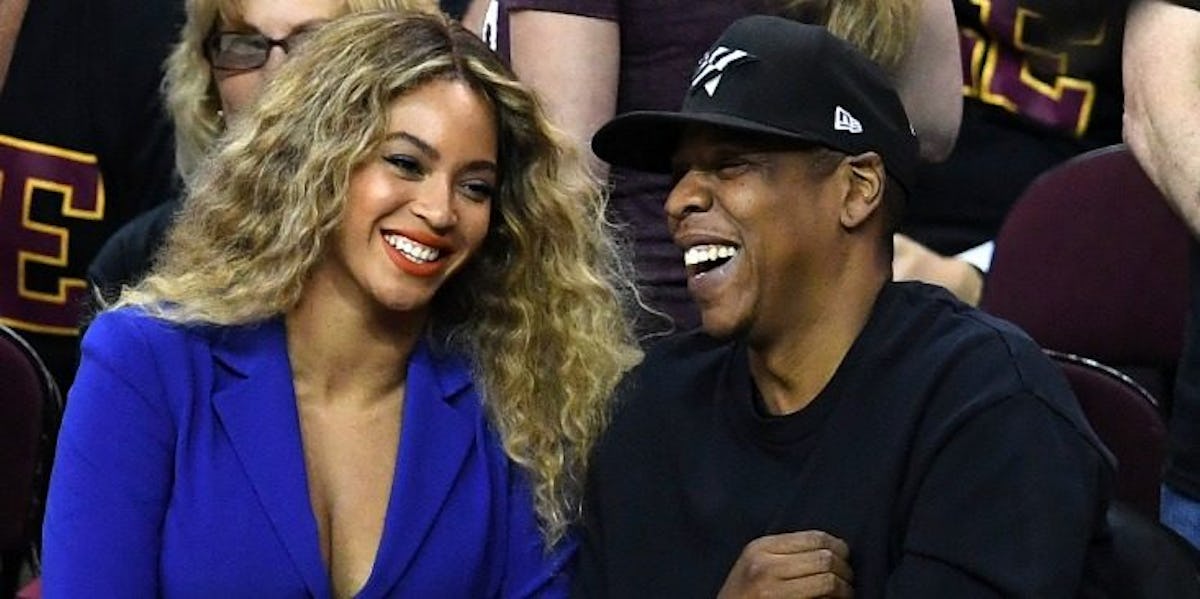 Beyoncé And JAY-Z Are Headlining A Concert That Will Go To An Amazing Cause
Getty
We have tragically seen one natural disaster after another for the past few weeks. People have been joining together to help aid those in need. Beyoncé and JAY-Z have stepped up in a big way with their next plan of action for hurricane relief. The two are planning an epic benefit concert to help hurricane victims. Where will the proceeds of Beyoncé and JAY-Z's hurricane benefit concert go? According to Us Weekly, the proceeds will reportedly go to help those affected by Hurricane Harvey in Texas and Hurricane Irma in Florida — a specific organization has not yet been named.
Beyoncé and JAY-Z's hurricane benefit concert will go down on Tuesday, Oct. 17, at the Barclay's Center in Brooklyn, New York. That date is just 10 days before JAY-Z kicks off his world tour for 4:44. Tickets for the hurricane benefit concert are not yet available for purchase.
This concert will be momentous for a couple of reasons. First, it will be Bey's triumphant return to the stage since delivering her twins, Sir and Rumi. Second, this is the first time Beyoncé and her hubby will perform together since 4:44 was released.
The benefit concert is marked to be a really exciting night. Although not a ton of details have been released, speculation is high that Bey and JAY-Z will be joined by several other Roc Nation artists. This could include, Rihanna, HAIM, Willow Smith, DJ Khaled and more. Obviously, if Bey and JAY-Z are involved, it's going to be unforgettable.
In particular, Queen B, has been extremely proactive to help victims of Hurricane Harvey and Irma. She was one of the A-list celebs featured in "Hand in Hand: A Benefit for Hurricane Relief" — these videos encouraged viewers to pay attention, all while highlighting truths about the political, social, and natural state of our country. The cause was broadcast live across 15 networks, streamed on social media, and aired on over 150 radio stations throughout the country. It raised over 44 million dollars — a staggering amount that will benefit literally thousands of people.
Beyoncé says in the thoughtful and truthful video,
It's impossible to watch the news without seeing violence or racism in this country. Just when you think it couldn't possibly get worse, natural disasters take precious life, do massive damage, and forever change lives, leaving behind contaminated water, flooded hospitals, schools, and nursing homes, and countless families are now homeless. In my hometown city of Houston, people need food, clothing, cleanig supplies, blankets, shoes, diapers, and formula for babies, and of course, clean water. The elderly need wheelchairs and kids need books and toys so they can continue to dream. Natural disasters don't discriminate. They don't see if you're an immigrant, black or white, Hispanic or Asian, Jewish or Muslim, wealthy or poor. It doesn't matter if you're from [Houston neighborhoods] Third Ward or River Oaks, we're all in this together. Seeing everyone of different racial, social, and religious backgrounds put their own lives at risk to help each other survive restored my faith in humanity. True healing is in helping.
Beyoncé has stayed active in her hometown of Houston, as well. On Sept. 8, Beyoncé paid a visit to St. John's Church, where she attended worship as a child. The singer was accompanied by her mother, Tina Knowles Lawson, her daughter, Blue Ivy, and Michelle Williams of Destiny's Child.
In the heartfelt speech, Beyoncé gets emotional while talking about how much she cares for Houston and the safety of its residents.
Y'all are my family. Houston is my home. I thank God that you're safe, your children are safe. I think that what really matters is your health and your children and your family. And I just wanna say I love you. I've been blessed so that I can bless other people, and I ask of God to continue to do that for other people.
She continued,
I was maybe 9 or 10 years old the first time I sat there where my daughter is sitting. I sang my first solo here and I just wanna thank you for lifting my family up, for praying for me, and for being such an incredible example of what light and love is.
It's great to see people giving back — celebs included. Beyoncé and JAY-Z have truly led the example of what it means to help people in need.
Check out the entire Gen Why series and other videos on Facebook and the Bustle app across Apple TV, Roku, and Amazon Fire TV.