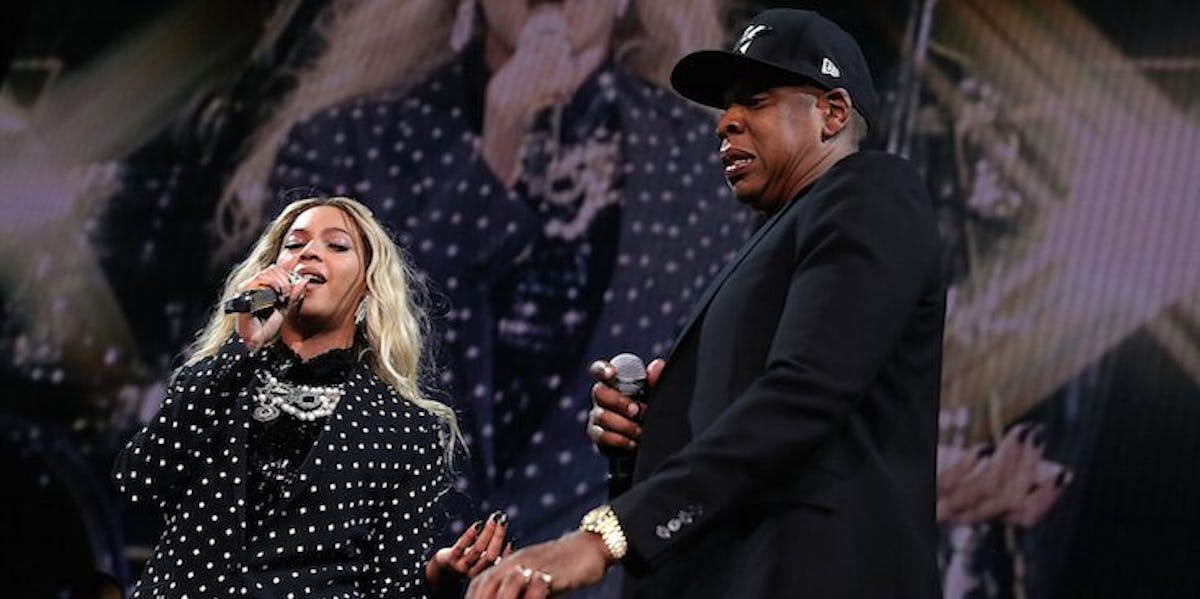 Here's Everything We Know About Beyonce And JAY-Z's Hurricane Benefit Concert
Justin Sullivan/Getty Images
Beyoncé and JAY-Z are headlining what is sure to be an epic hurricane benefit concert to help the victims of Hurricane Harvey and Hurricane Irma. With many expecting an impressive lineup of performers on the bill and for the show to bring in big money to help those in need, there's understandably huge buzz about getting tickets. With limited information available, however, figuring out where to buy tickets to Beyoncé and JAY-Z's concert is tricky.
Ticket demand will be massive, with fans anxiously awaiting details on how they can secure their seat for this huge event. Here's what we know so far: The concert will be held at Barclays Center in Brooklyn, New York, on Oct. 17. Other Roc Nation artists are expected to perform. There's limited information right now, but more to come!
In terms of ticket sales, keep a watchful eye on social media for an official announcement from Beyoncé and JAY-Z. If you're not following them (how is that even possible?), make sure you do it right now. I'll wait.
Cool. Now that that's out of the way, let's do a little brainstorming about where you can likely buy Beyoncé and JAY-Z Hurricane Benefit Concert tickets. These will sell out in minutes, so check out these sources early.
As always, Ticketmaster is a solid, reputable source for concert tickets, and it's a safe bet that they will sell tickets to this show. Once an announcement is made about when tickets will be going on sale, there should be an active page on Ticketmaster for this event.
StubHub is another reliable ticket source and will likely have tickets available as well, with a guarantee that "you can buy and sell tickets with 100% confidence," according to their website.
Tip: If you don't have an account with Ticketmaster or StubHub, sign up for one ahead of when tickets go on sale so that you're ready to go!
Also, always make sure you're purchasing from legit ticket sellers to avoid the risk of getting scammed.
Beyoncé has been active in assisting those impacted by the hurricanes, including her moving video message during the Hand in Hand telethon on Sept. 12, where she made this emotional plea:
"During a time where it's impossible to watch the news without seeing violence or racism in this country, just when you think it couldn't possibly get worse, natural disasters take precious life, do massive damage and forever change lives, leaving behind contaminated water, flooded hospitals, schools and nursing homes, and countless families are now homeless."
She added:
"Natural disasters don't discriminate. They don't see if you're an immigrant, black or white, Hispanic or Asian, Jewish or Muslim, wealthy or poor. It doesn't matter if you're from [Houston neighborhoods] Third Ward or River Oaks, we're all in this together. Seeing everyone of different racial, social, and religious backgrounds put their own lives at risk to help each other survive restored my faith in humanity. True healing is in helping ... Tonight, we come together in a collective effort to raise our voices, to help our communities, to lift our spirits, and heal."
The singer also went to her hometown of Houston earlier this month to help those impacted by the hurricane, handing out food to those in need. She told the evacuees: "This, today, is a celebration of survival. Y'all are my family. Houston is my home. I thank God that y'all are safe, that your children are safe. I think that what really matters is your health and your children and your family. And I just wanna say I love you. I've been blessed so that I can bless other people, and I ask of God to continue to do that for other people."
She posted photos of her volunteer efforts on Instagram:
Stay tuned for ticket information, including when the Beyoncé and JAY-Z Hurricane Benefit Concert tickets go on sale and where to buy them.
Check out the entire Gen Why series and other videos on Facebook and the Bustle app across Apple TV, Roku, and Amazon Fire TV.