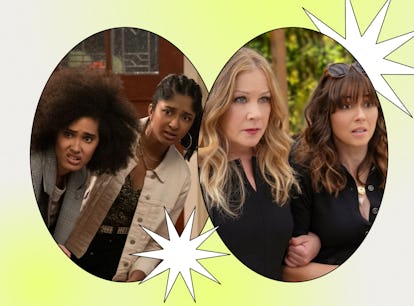 13 Shows To Watch On Netflix For International Women's Day
This list has something for everyone.
by Ani Bundel and Dylan Kickham
International Women's Day is a day that has been celebrated since 1909 when women first marched in New York City for the right to vote and be considered equal. Though it's been observed on March 8 since 1913, it's only recently risen back into popular consciousness. So what should you do besides wear purple? If you want to add some girl power to your downtime, these shows on Netflix for International Women's Day will help you remember what feminism looks like when it's time for you to return to smashing the patriarchy.
Luckily, Netflix has tons of shows that feature complex women front and center, be they unapologetically powerful bosses or relatable characters going through the struggle like the rest of us. These shows are sure to inspire you to take up space, know your worth, and continue fighting the good fight for true gender equality. Whether you're a man, woman, or non-binary, everyone can find something that speaks to them hidden in Netflix's library of female-forward programming.
So, if you're looking for a new series to check out on or around March 8, make International Women's Day the perfect reason for you to dive into one of these great feminist series.
This article was originally published on