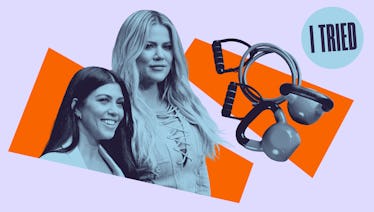 I Tried Working Out With A Kardashian Trainer & Now I Never Want To Be Famous
Slaven Vlasic/Getty Images
Love 'em or hate 'em, the Kardashians are the definition of iconic. While I don't religiously keep up with their every move, I often dream about what it would be like to live like a member of one of the most famous families in the world. Even though I can't cruise around in a pink Rolls-Royce or turn heads at the Met Gala, I can emulate them in at least one way: their exercise regimens. So, when I got the chance to try working out with a Kardashian trainer, I figured this was an opportunity to live like Kim and her krew.
It's no secret the members of the KarJenner fam put a lot of effort into their physical appearances. Their socials are full of glam shots, gym selfies, and, most relevant to me right now, fitness tips. One of the many ways they work out is with the help of their longtime personal trainer, Don Brooks, aka "Don-A-Matrix."
Chances are, you've seen Brooks training the fam on Keeping Up With The Kardashians over the years. He's known for being tough and his strategic high intensity interval training (HIIT) workouts have not only helped shape the Kardashians' bods, but have also caused even them to collapse into a heap of sweat and shaking muscles.
In addition to regularly working with Khloé, Kim, and Kourtney, Brooks has also trained Kylie, Kris, and Kanye West, not to mention other A-listers like Josh Duhamel, Kristen Bell, Fergie, and Addison Rae. So basically, if you're a celebrity, you probably work out with Brooks or know someone who has.
All this is why I — someone who has always wanted to be a celebrity but never got her big break — was thrilled to try a one-on-one virtual session with Brooks. I figured after a quick 30-minute workout, I'd be well on my well to posting #SponCon and starring in my own reality series.
Here's how that worked out...