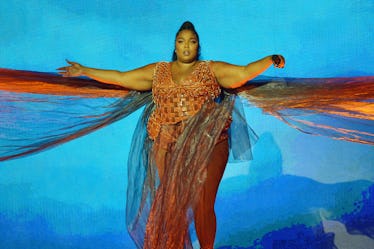 I Tried Lizzo's Workout Moves From TikTok & I Feel "Good As Hell"
Jim Dyson/Redferns/Getty Images
You've been there before: You're scrolling through your Instagram feed when you see your favorite celeb post about their favorite new product — a face serum, vitamins that will make your skin brighter, or a specialty food service. You can't help but want to be like the stars, but are the products worth it? In Elite Daily's I Tried series, we put it all to the test. We're trying those products as well as celebrities' health and wellness tips, recipes, and life hacks. We'll do the leg work and tell you what living like your fave star is really like.
When it comes to being the queen of loving yourself, Lizzo reigns supreme. The singer, rapper, songwriter, and flutist is known for her bold personality, clever lyrics, and inspirational body-positive messages. She's also become something of a fitness influencer, posting videos of herself exercising alongside confidence-boosting captions on social media. In fact, her fitness tips are so empowering, I tried Lizzo's workout moves from TikTok to channel her good vibes and get my sweat on.
On June 9, Lizzo posted a TikTok of herself doing various exercises, along with an important voiceover message to fat-shamers. "It may come as a surprise to y'all that I'm not working out to have your ideal body type. I'm working out to have my ideal body type. And you know what type that is? None of your f*cking business, because I am beautiful, I am strong, I do my job, and I stay on my job," she said.
As someone who's had a troubled relationship with food and physical activity, I felt seen by her message in a way that made me want to toss on a sports bra and emulate her. But it's not just Lizzo's words that were inspiring; seeing her pull off some badass exercises and celebrate her body made me want to work on my fitness as well. I scrolled through her feed, found a handful of videos of her doing different workouts, and picked out the moves I would be able to recreate at home for a full, DIY Lizzo-inspired workout.