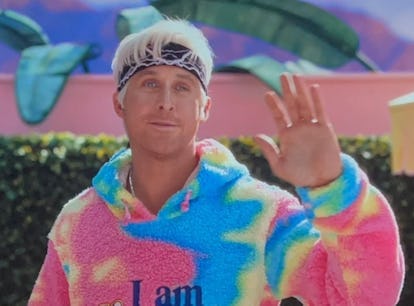 Yes, That Iconic Ken Hoodie From Barbie Is For Sale
Finally, you too can be Kenough.
Warner Bros.
We may receive a portion of sales if you purchase a product through a link in this article.
Everyone knew the fashion in Barbie would be next-level. From iconic vintage 'fits to eye-poppingly colorful gowns, the Barbies more than delivered in terms of style. But it was actually an article from Ken's closet that got fans most worked up. After the movie premiered, everyone was demanding to get their hands on the hoodie Ken wears in his final scene. Thankfully, Mattel listened, and now you can but Ken's "I am Kenough" tie-dye hoodie from the brand's official store. Just be quick, because it's sure to sell out fast.
Spoiler alert: This post mentions minor spoilers about the ending of Barbie. It was already a given that Barbie and Ken would be turning tons of enviable looks throughout Barbie, and of course, most of them are totally inaccessible to the mere mortals watching in awe. But Ken's final 'fit was the perfect blend of over-the-top fluorescents and cozy, everyday casual-wear. After finally accepting that he could exist on his own without Barbie, Ken waved farewell to his one-time love while wearing a bright tie-dyed hoodie emblazoned with his new life mantra: "I am Kenough."
The look was absolutely overflowing with Kenergy, so of course social media blew up with fans clamoring for a way to buy the hoodie for themselves after they saw Ryan Gosling wear it in the movie's final act. Luckily, you can get your hands on the official sweater on Mattel's website right now.
Oh, and don't worry too much if the hoodie sells out before you get a chance to add it to your cart. While the demand is obviously very high for the rainbow tie-dye pattern that matches the one Ken wore in Barbie, Mattel is also selling the "I am Kenough" hoodie in a pale blue color, or you can get a T-shirt version that matches the hoodie's tie-dye pattern.
As you can imagine, the Mattel merch store is going all out with Barbie products. You can also find a "Kenergy" hoodie, an official Barbie tee, and even shirts that celebrate specific side characters from the movie, including Weird Barbie and Allan.
So get ready to play dress up all over again, because you get to be your own Barbie or Ken now.