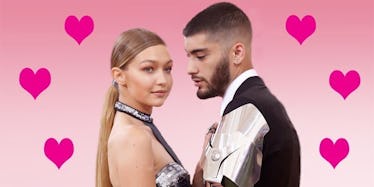 Forget Hiddleswift, Fans Think Gigi Hadid And Zayn Malik Are A Fake Couple
REUTERS
Ever since Taylor Swift was photographed making out with Tom Hiddleston, the two have been declared an item.
Shortly after her breakup with Calvin Harris, the 1989 singer was reported to be dating the "Crimson Peak" actor. Fans seemed to experience a mix of emotions -- some were shocked and angry, others were excited about their love.
For the most part, I think everyone was just confused about this sudden out-of-the-blue romance.
On top of that, fans began to question the legitimacy of Taylor and Tom's new relationship because of all their "picture perfect" moments.
The two were photographed walking hand-in-hand on the beach, going out to dinner and exchanging saliva on the rocks. Taylor was even pictured laughing with Tom's mom.
For many people, it felt like their relationship was almost too good to be true.
That's when the conspiracy theories started formulating.
E! News writer Holly Passalaqua offered an interesting insight to Hiddleswift. She wrote,
Are Hiddleswift toying with our emotions? Is Taylor trying to prove just how crazy the media and the world in general can go over her relationships? (Mission accomplished, regardless.) Is she filming a music video or visual release to accompany her new album, à la Beyoncé's multimedia extravaganza Lemonade?
Even Spencer Pratt commented on Taylor and Tom's new "fling" in an interview last week and questioned why the photos looked so staged.
At this point, it's unclear what's really going on with Taylor Swift and Tom Hiddleston.
Are the two actually dating? Is Taylor planning on releasing a new album and wants the PR? How does Calvin actually feel about his ex-girlfriend's new romance?
Most importantly, why the hell was Tom wearing an "I love T.S." tank top? If their relationship is real, was that just a cry for help?
WTF ARE YOU DOING, TOM?
What I do know, however, is Hiddleswift isn't the only celebrity couple raising suspicions. Many fans believe Gigi Hadid and Zayn Malik are faking their love as well.
ZiGi conspiracy theories circulated on Twitter and Tumblr over the last year as people collected evidence to suggest their relationship is just an elaborate publicity stunt.
Fans have pointed out how Gigi's popularity has dramatically surged since dating Zayn.
How many new 1D followers did Gigi gain with her Bradford rtwt? Zayns followers also went up!!This fauxmance PR plan is on track — zigi is fake (@FakeZigi) January 2, 2016
Wow ... I wonder y that happened pic.twitter.com/qMQ0teSiSb — zigi is fake (@FakeZigi) May 13, 2016
They only need about 40mil new followers 2 catch up 2justin & selenas follow count!Gaining by the day-this pr train could run for a while! — zigi is fake (@FakeZigi) January 2, 2016
Oh no!!zigi didn't trend after the faceless selfie but the hailey&justin kiss just has...I c a kiss coming r way very soon #zigiisfake — zigi is fake (@FakeZigi) January 3, 2016
Genius PR stunt -as zayns fans flock 2 follow gigi pic.twitter.com/FYicg1jMMz — zigi is fake (@FakeZigi) January 17, 2016
Some people seriously lack brain cells if they dont c zayn doing Vogue with gigi will prove he's being used 2 promote her modelling career — zigi is fake (@FakeZigi) April 4, 2016
They also believe Zayn and Gigi's PDA on social media is staged and not genuine affection.
Gigi's really going 2 town with the whole zigi thing on social media this wk!!! I wonder y?? #zigiisfake pic.twitter.com/Xw95wnofz0 — zigi is fake (@FakeZigi) March 21, 2016
FACT : Gigi always gets about 2-3k likes per tweet : when she throws in zayn she gets up to 60k (plenty more coming i think) #zigiisfake — zigi is fake (@FakeZigi) March 22, 2016
Very shocked zigi made an appearance 2day!!! no point spending time together if the whole world doesn't see itPR pic.twitter.com/dKRwCwVQaF — zigi is fake (@FakeZigi) February 22, 2016
Gigi's presence in Zayn's music video for "Pillowtalk" was just a paid gig, according to the conspiracy believers.
"Gigi is in zayn's music video"-OBVIOUSLY the fauxmance was great publicity for his new video! single dropping=zigi ending #zigiisfake — zigi is fake (@FakeZigi) January 29, 2016
The zigi fanatics will b out in force when zayns video drops-forgetting the SMALL fact gigi was paid for it&was only doing a job all along! — zigi is fake (@FakeZigi) January 29, 2016
They also point out how often Gigi wears merchandise to promote her relationship with Zayn.
No words needed #zigiisfake #desperateforPR pic.twitter.com/Pfvvx4SIWV — zigi is fake (@FakeZigi) June 26, 2016
Furthermore, when Gigi and Zayn temporarily broke up, the fans saw it coming.
Bet Z**i is going 2let the media play out these breakup stories then we'll get a cheesy stunt 2show how in love & serious it is...more PR — zigi is fake (@FakeZigi) May 26, 2016
Zayn and Gigi broke up in early June, around the time Zayn canceled his performance at London's Capital Summertime Ball due to anxiety.
The Victoria's Secret model posted a message to her boyfriend on Twitter to support him during this difficult time.
@zaynmalik pic.twitter.com/Jg2GLgrAPe — Gigi Hadid (@GiGiHadid) June 12, 2016
Fans criticized Gigi for making such a personal letter so public.
Suggestion-a call is more appropriate!The world doesnt need 2c ur 'support'-give it without trying2benefit ur image pic.twitter.com/8uutolBNgA — zigi is fake (@FakeZigi) June 12, 2016
Overall, it seems like people think Gigi and Zayn are together solely to benefit their careers.
In the end, I don't know what to believe. I've been single for years now, so having a fake boyfriend sounds kind of nice. Calvin, are you interested?
Long story short, I just hope Taylor Swift and Zayn Malik come out with new music soon because that's all I really care about.
So, what do you think?