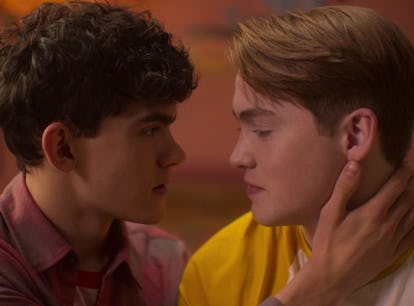 Heartstopper Season 3 Is Happening, But 1 Major Character Won't Be Back
Didn't see that exit coming...
Netflix
Those animated sparks are about to be more explosive than ever when Heartstopper returns for its third season. And this new run of episodes is the show's most mysterious yet, as even fans of Alice Oseman's Heartstopper graphic novels can't be too sure about what's next for Charlie, Nick, and the rest of these lovestruck teens. One thing that has been confirmed, though, is a surprising change-up in the cast, with one character not returning for Season 3. If you're eager to dive back into the Heartstopper universe, here's everything to know about Season 3, including what it may be about and when to expect it.
The third season of Heartstopper was confirmed long before Season 2 even aired. Netflix picked up Season 3 at the same time as Season 2 back in 2022. The new season is expected to adapt the fourth and fifth volumes of Oseman's graphic novel series, which presents a new issue for fans. The first two seasons of the show adapted stories that had already been released, so readers had a good idea of what to expect. But Oseman's fifth Heartstopper volume won't be released until the very end of 2023, so fans don't actually know what's going to happen in Season 3. Plus, Season 2 made a lot of big changes from the books, so the excitement for Season 3 is very different from how fans had awaited the first two seasons.
What we do know is that a certain character is finally out of Charlie and Nick's life for good.
Heartstopper Season 3 Cast
The whole Truham-Higgs crew is expected to be back, except for Ben Hope. Sebastian Croft, who played Ben, and Oseman confirmed Season 2 wrapped up Ben's character in a Netflix interview shortly after the season aired. "Ben's role in Heartstopper is now complete," Oseman stated.
This exit was heavily implied by Ben's farewell to Charlie in the penultimate episode of Season 2. He told Charlie he was transferring schools, and apologized for all the terrible things he had put him through, but Charlie refused to forgive him.
What Will Heartstopper Season 3 Be About?
In the past, it's been easy to predict what will happen next in Heartstopper by looking at Oseman's graphic novels, but because the next Heartstopper book won't be out until Dec. 7, 2023, fans don't have too much to go off of until then.
We can look at the fourth volume of Heartstopper for some possible plot points the new season will likely hit, though. Spoiler alert: The rest of this post contains spoilers from the Heartstopper novels, which could likely spoil future episodes of the show. The latest book focuses largely on Charlie's disordered eating, as Nick struggles with how to help his boyfriend. This was already touched on in Season 2, but will likely become a central element of the third season. The volume also focuses on Nick coming out to his dad, which was already covered in Season 2, as well as Charlie and Nick finding the right time to finally say "I love you" to each other, which was teased in Season 2's finale.
Basically, Season 2 already adapted a lot of the big moments from Heartstopper Volume 4, so we won't know much about Season 3's direction until Oseman releases Volume 5 this winter.
Heartstopper Season 3 Predicted Release Date
Netflix hasn't announced a release date for Season 3 yet, but if it follows the patterns of the first two seasons, Season 3 will likely premiere around the summer of 2024.