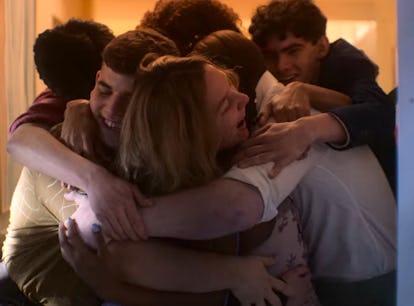 Heartstopper Used The Perfect Taylor Swift Song In Season 2
This one's for the folklore queens!
Netflix
Heartstopper is pretty unmatched when it comes to its soundtrack. The teen romance is full of fizzy pop songs and emotional ballads from exciting artists, and the show outdid itself in Season 2's finale. The climactic episode features Taylor Swift's ethereal folk song "seven" in a moment that perfectly captures the track's meaning.
Spoiler alert: This post discusses details from the Heartstopper Season 2 finale. An exhilarating trip to Paris unfortunately couldn't cure all the problems the Heartstopper kids were dealing with in Season 2. As Nick struggled to come out and Charlie was privately battling an eating disorder, Darcy seemed like the one person in the friend group who actually had it all figured out. Until the show finally offered a glimpse into her home life. While she has always been incredibly confident in her sexuality while hanging out with her friends, she's verbally abused for how she dresses and acts by her mother at home. When her mom forbids her from going to prom in a suit, Darcy runs away, leaving Tara to attend prom alone.
Thankfully, Darcy found her way to Nick's house to reunite with everyone after prom, and she finally told Tara that she's not out to her parents and may never come out to them. She confesses how her mom makes her hate herself, but Tara is able to cheer her up by reaffirming that she still loves her. And as Darcy finally says "I love you" to Tara for the first time, the opening chords of "seven" begin to play.
Unlike most soundtrack songs, Swift's folklore track plays nearly in its entirety as Darcy and Tara rejoin their friends to play games and dance together at their prom after-party. It's a perfect choice to score the scene, as the song tells the story of a young girl with similar domestic struggles as Tara. In the emotional song, Swift reminisces about a childhood friend whom she now understands was being abused at home, but back then, she only knew the euphoric times she had playing with her. It's a sentiment that fully captures the heart of Darcy's character, who hides her issues and becomes the life of the party to cheer everyone else up.